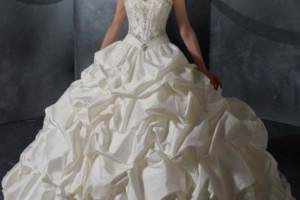 All That's Bling
Some brides believe less is more when it comes to what they wear on their big day, and others are perfectly comfortable in an 80lb wedding dress encrusted with sparkling jewels. Sondra Celli is world renowned for her blinged-out, crystal couture, and the go-to designer for gypsies wanting a weighty wedding dress.
About Sondra Celli
Sondra Celli and her talented team of 16 women work long hours making sparkling creations for people of all ages, shapes and sizes. Her designs include baby clothes, pet clothes, Halloween costumes, wedding dresses and everything in between. In addition to clothing, she adds bling to accessories like shoes, pacifiers, and sunglasses. Sondra even had a client who wanted rhinestone decorated toilet paper and she was happy to oblige. Ms. Celli also designed the glittering red, white, and blue outfits for the New England Patriots cheerleaders. Her wedding dresses have been seen on the hit TLC show My Big Fat Gypsy Wedding. Other fabulous Sondra Celli creations have been featured in The New York Times, Town & Country, The Huffington Post, and The Boston Globe.
The Design Process
The design process for a Sondra Celli bridal dress is very similar to that of any other custom designed gown. She begins by discussing ideas with the bride, and choosing a silhouette. Her clients usually believe the more bling the better, and the only way to disappoint them is to have too few rhinestones and crystals on their gowns. The average wedding dress takes Sondra and her staff three to four months to complete. A very elaborately decorated 80lb wedding dress can sometimes take six to eight months to finish. She advises brides to plan ahead and contact her early on so she can accommodate their schedules.
Her wedding day is a milestone moment in any women's life. Having the perfect dress is of utmost importance; whether that means a minimalistic sheath, an 80lb wedding dress dripping with crystals, or any other outfit that suits her tastes.