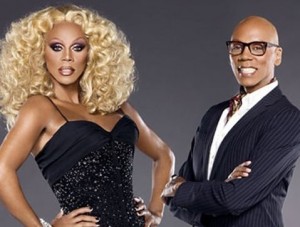 A groom should walk a mile in his fiance's shoes to better understand his bride to be. This week on the hit television show RuPaul's Drag Race, some couples took that advice literally as grooms slipped in to some high heels and got all dolled up in drag for the big day. Universal Life Church minister and the king of drag queens, RuPaul Charles, performed the joint ceremony for six couples.
In certainly one of the most entertaining pageants, these "lady grooms" competed to see whose drag was the most convincing of the group before being joined by their wives-to-be on the main stage. Each couple was given time to read their own wedding vows as celebrity witnesses Neil Patrick Harris (from the show "How I Met Your Mother") and David Burtka (from the stage production "Gypsy") looked on.
The performing icon closed out the show in usual fashion, asking the guests "if you can't love yourself, how in the hell are you going to love somebody else? Can I get an Amen?" Amen, RuPaul!