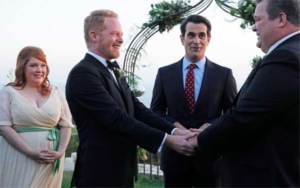 Modern Family's Mitch and Cam Tie The Knot
In one of the most politically relevant finales in history, Modern Family's Mitch and Cam finally got married. Rounding out the show's sixth successful season on television, this has been a much-anticipated episode to solidify the couple's long-standing relationship in front of their family and friends. While they are not the first same-sex pair to get married on TV, the spotlight couple's magnetism and ability to relate to their audience makes them an all-time fan favorite in the sitcom world.
Making Headlines
Before the courts took down Prop 8, which prevented individuals of the same gender to wed in California, the ACLU began to petition in May 2013 that the TV pair be allowed to make it official. Since then, not only has Prop 8 been overturned, but many other states are legalizing gay marriage as well.
Same-sex marriage continues to slowly lose its adversaries across the country as more people are embracing homosexual unions. With nearly 55% of Americans supporting gay marriage, it is no surprise that 10.2 million people tuned in to watch the popular couple get married on TV.
The Officiant Switch
Show creator Steve Levitan had openly offered the role of officiant to Ann Romney back in 2012 after she had publically admitted that Modern Family was her favorite show. While she did not accept the part, Elizabeth Banks reprised her character on the popular sitcom as the couple's troubled friend, Sal, to marry the hilarious duo. When she went into labor, Phil was able to take the reigns, revealing that he had been ordained online and was able to eagerly step-in to perform the ceremony.
While he was not the couple's first choice, Phil was able to elegantly add-in gender-neutral verbiage to make the ceremony feel both personal and sophisticated. In a much talked about move, he cleverly closed the service by perfectly stating, "I am proud to pronounce you spouses for life. You may now kiss your husband."
While the country continues to embrace same-sex marriage, viewers were happy to raise a celebratory glass as Modern Family's favorite gay couple got married on TV this past season.