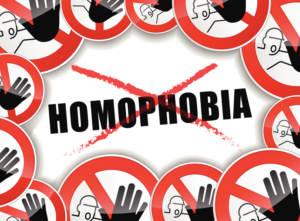 "Little People, Big World" is a reality television show on TLC that documents the lives of a family living with dwarfism. Both parents, Matt and Amy Roloff, both stand at just four feet tall, and one of their four children, Zach, also has the condition. The show focuses on their day-to-day life, showing the struggles that can come with being shorter than the average person, and it also focuses a lot on the family's Christian faith. Recently, comments were made on their son Jeremy and daughter-in-law Audrey's blog in regards to same-sex marriage.
Same-Sex Marriage Comments
The couple's blog is dedicated to married couples in an effort to help bring down the estimated 50 percent divorce rate nationwide. They hope to achieve this by promoting the idea of giving one another time and devotion instead of focusing on the self. It didn't take too long for people to notice that there was never anything mentioned about same-sex couples. In fact, all of the marriage advice seemed to be geared toward a marriage between a man and a woman.
When asked about it, Audrey posted in a comment that same-sex marriage was not something that the Roloff family agreed with. She did say that same-sex couples were more than welcome to read the blog, and that hopefully they would see that the blog was aimed at a healthy Christ-centered marriage. "We are for opposite-sex marriages that are striving to give more than average to their marriages, to live out the covenant of marriage every day, and to center their marriage around Christ. That being said, know that our content is not written to same-sex marriages, so to say that we don't offer advice for that side is accurate," she stated.
Roloff Family Against Gay Marriage
This certainly wasn't the first thing to indicate that the Roloffs were against same-sex marriage:
A few years ago, Jeremy's sister Amy tweeted a statement in regards to the interview between Kirk Cameron and Piers Morgan about homosexuality. In it, she applauded Cameron for his ability to stand up for what he believed in, even when it was not the popular opinion.
When the children's mother Amy first created her website, it was linked to Focus on the Family, which is known for its stance against same-sex marriage.
Their faith is not hidden at all; you can regularly see them praying on their show, and their children attend a Christian private school.
So for many, it's not surprising that the Roloff family is not in support of same-sex marriage.
Opinion or Discrimination?
Many people wonder when someone's opinion turns into discrimination. Was it discrimination for Audrey Roloff to say that she and her husband do not agree with same-sex marriage? Not necessarily. She did say same-sex couples were welcome to read the advice on the blog but that the content wasn't aimed toward them. It is a Christian blog, so to some, this might make sense. After all, there are blogs out there dedicated specifically to same-sex couples, but that doesn't mean the websites are discriminatory toward heterosexual couples.
Still, this opinion on same-sex marriage in the general population has made it difficult for many LGBT couples to achieve their dream, which is to get married to the person they love. It has only been one short year since same-sex marriage was legalized nationwide, and there are still people who are not happy about it. Are they being ignorant and judgmental or simply standing up for what they believe in?
The fact is, the Roloffs are entitled to their own opinion just like anyone else. People are always going to disagree on this issue no matter what happens. The fact that some of these families have a public platform can make it seem like they are being discriminatory, but hopefully that isn't the intent.