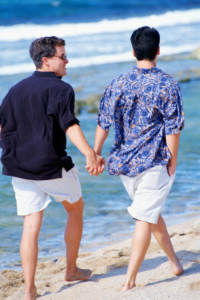 Part of getting married is getting to go on the highly anticipated honeymoon. Whether you are doing something small or going all out on an international vacation, you are bound to make many memories you will likely never forget. For same-sex couples, the honeymoon may be even more special. After all, not many people have had to fight harder for their right to get married. For this reason, you probably want your honeymoon to be everything you have ever dreamed of. What may surprise you is there are little things you can do to help make your honeymoon much more memorable.
Take Lots of Pictures
Sure, you want to live in the moment, but you also want to have plenty of photographs as well. Take pictures of yourselves at monuments, enjoying delicious meals, and taking in the beautiful scenery. Ask other people to take pictures of the two of you together or use a self-timer so you have pictures of yourselves in the early parts of your marriage. While these are memories you won't soon forget anyway, having pictures can help you remember the details when wanting to share stories with other people. Plus, there will be plenty of people who will want to see the photos as well.
Have a Plan, But Don't Necessarily Stick to It
You should have a pretty solid plan of what you want to do on your honeymoon. If you are going on a road trip, you should map out your trip and figure out what hotels you will be staying at. If you are traveling to another part of the world, figure out things like:
Where you want to eat
Places you want to tour
Other things you would like to try
Mark as many of these things off of your list as you can. At the same time, though, don't forget to be spontaneous. If you want to take an extra day on your road trip and explore a little more, don't be afraid to. If you enjoyed a restaurant so much that you want to eat there twice, then go for it. Your honeymoon should be all about what you and your partner want.
Consider Unplugging
There will be plenty of time to fill your family and friends in on your honeymoon later. Your social media pages will still be there after you are back home. Consider having at least one day where you leave your phone in your hotel room or turn it on silent. Let yourself enjoy every second with your new spouse without any distractions. You might be amazed at how freeing it is. You may enjoy it so much you decide to unplug for your entire honeymoon.
Make Back-Up Plans
Just like it's important to be spontaneous for when you want to do something other than what your schedule might have, it's also a good idea to have several back-up plans. For example, what happens if you had a romantic picnic in the park planned, but there is nothing but stormy weather expected for the next three days? Have other plans so you aren't stuck not knowing what to do when things don't go exactly according to plan.
Sleep a Lot
While you want to do a lot when you are on your honeymoon, you should also make sleep a priority. This may sound a bit silly considering the fact that it's your honeymoon, but wedding planning can be exhausting and giving yourself a chance to sleep in or go to bed early some nights may be the best thing you can do for yourself.
These are just a few small things you can do to make your honeymoon more memorable. Above all else, make sure you enjoy your time with your spouse and cherish the moments you have on this vacation.