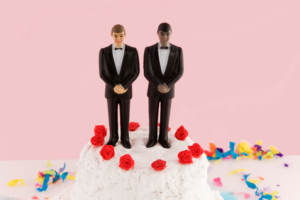 If you are planning a same-sex or otherwise nontraditional wedding, you want it to be as unique as your relationship, and there are plenty of ways for you to throw a prideful wedding. Consider some of these ideas as you begin brainstorming and planning your ceremony and reception.
Make a Rainbow-Colored Guestbook
Guestbooks are a tradition at most weddings as a way to remember who attended. You can make yours unique by making it colorful instead of going with the traditional white book and black ink. Begin by finding your guestbook. Once you've found it, there are several ways to make it colorful. The easiest way is to provide pens in a range of colors for people to use when signing. If you'd like to get more creative, use rainbow-colored stamps or provide ink for guests to sign the book with their fingerprints.
Use Pride Colors as Part of Your Ceremony and Reception Décor
What type of wedding décor do you plan to use for your ceremony and reception? Whether you go with the traditional rainbow pride colors or you want to incorporate the lesbian, pansexual or transgender pride colors, you can add color to nearly any décor, including:
Flowers
Balloons
Programs
Streamers
Place cards
Centerpieces
Dresses
Tuxedos
Shoes
Wedding favors
Wear Nontraditional Wedding Bands
If you and your spouse-to-be prefer something more personal and lasting, you can incorporate pride colors into your wedding bands. Custom silver bands with tiny gemstones in the colors of your choice are beautiful, elegant and will remind you of your special day every time you look at your hand. Because custom rings take longer to create, if you decide to use this idea, start designing your rings as soon as possible to ensure they are ready in time for the big day.
Purchase a Unique Cake Topper
By searching Etsy or other custom websites, you can get very creative with your wedding cake topper. Have characters made to look like you and your partner, incorporate parts of your relationship or personality into the topper, or simply create something with your preferred pride colors. You can even create beautiful, sparkling toppers that use your names or your married name. The options range from the truly elegant to completely whimsical.
Create a Rainbow Dessert Bar
Whether you want to go completely nontraditional or lean toward the more traditional, the dessert table is the perfect area to get creative. If you want a traditional white wedding cake, you can surround it with cupcakes, candies and other desserts in a variety of colors. If you don't intend to have a traditional wedding cake, have rainbow-colored cupcakes instead, filling in the spaces with candy. Are you having trouble finding the exact colors you want? M&Ms allows you to purchase custom candies in your preferred colors. You can even replace the letter M with your own monogram.
Get Creative at the Reception
How does a truly unique, pride-inspired photo opportunity sound? You can have it by adding a bit of whimsical fun to your reception. If you rent a ball pit, not only will you give children and adults alike something fun to do at your reception, but the multi-colored balls make for a unique photo opportunity. You can hire a photographer to take candid shots of people in the pit, ask people to take their own pictures and upload them to social media with your wedding hashtag or even set up cameras to take photographs at random intervals. The multiple colors will remind you of your pride while the candid shots of friends and family will always be a reminder of the joy of the day.
The possibilities for incorporating your gay, lesbian, transgender, pansexual or any other type of pride into your ceremony and reception are practically endless. Think about which parts of your wedding are most important to you and your spouse and focus on those.
Save
Save