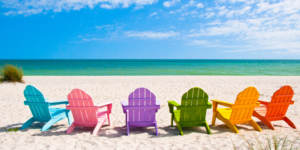 Many places around the world welcome the LGBT community with open arms, giving their communities an economic boost in the process. Unfortunately, there are other cities where legal protections for gay and transgender individuals do not exist. It's important to find places that cater to your segment when you go on holiday. Here are some of the best gay-friendly vacation destinations, taking into account social acceptance, legal factors and LGBT nightlife.
Toronto, Canada
Toronto is the most populous city in Canada, and it is a multicultural and cosmopolitan community located on the shore of Lake Ontario. English may be the primary language, but it's estimated that there are more than 160 languages spoken among the 200 distinct ethnicities represented within the area. Every June, the city hosts one of the largest Gay Pride parades. Prime Minister Justin Trudeau was the first major leader to attend a parade while holding such a prestigious office. Canada is recognized for its civil rights advancements. Not only are all individuals accepted at the many museums and activities in the city, but there is a vibrant LGBT community in the core of the city.
London, UK
One of the most sophisticated cities in the world, London is also multi-cultural and open-minded. It's home to history, fashion, music and film. It also houses Europe's largest gay community and holds an annual Gay and Lesbian Film Festival. Visit Soho or Vauxhall Village for gay-owned clubs and restaurants, but don't forget to see the Tower of London, Piccadilly Circus and the National Portrait Gallery. Experience some of the best theater and music venues in the world when you visit. Take a tour on a double-decker bus to see places that hold centuries of heritage.
Miami, Florida, USA
Although many cities in the United States are gay friendly, Miami is one of the most vacation-friendly cities, with local beaches, chic restaurants and popular nightclubs for the gay crowd. It's a city known for its relaxing atmosphere, but it also houses art, culture, science, sports and film venues. You can spend the day on the beach working on your tan, on the water fishing or surfing, or in a museum getting a better understanding of the Jewish community.
Barcelona, Spain
Barcelona and Madrid are two of the most gay-friendly cities in the world. There are more conservative areas in Spain that don't fully accept homosexuality, but Catalonians passed laws to defend LGBT rights in 2014. Barcelona has many gay neighborhoods with clubs and restaurants that cater to the community, but there are many other places to visit. It's home to eight UNESCO World Heritage Sites and has some of the most beautiful architecture in Europe. If you're into art, you'll find a number of well-known museums. For those who enjoy the water, Barcelona offers seven beaches with plenty of activities and sun in the summer season. One beach now allows dogs. Barcelona is also home to many gay festivals.
Tel Aviv, Israel
American Airlines named Tel Aviv as the most gay-friendly city in the entire world, even though it sits in one of the most tense areas politically. The weather is beautiful year-round, and it offers unique food, 24/7 nonstop activities, and many celebrations including Gay Pride week, LGBT Film Festival and Pride Expo, a gay cultural fair. Come enjoy the Mediterranean beaches and hundreds of gay nightclubs and restaurants. Make sure to visit the Eretz Israel Museum for a huge collection of archaeology and history exhibits. The city is also known for its green efforts, making great strides in saving water and electricity. It offers a comprehensive transportation network for visitors and residents. You can't go wrong when you come to Tel Aviv for holiday.