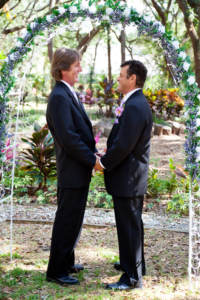 Even though it took years of fighting for it to become legalized, a wedding between two individuals of the same sex is essentially the same as a ceremony between people of the opposite sex. One of the exciting aspects of planning for a same-sex wedding is that you have the chance to come up with unique spins on old traditions. Since you and your partner are the same gender, there are a lot of traditions that will no longer make sense in your wedding, giving you room to explore your own options and the opportunity for a wedding with personal touch.
If you are currently planning your wedding and are very likely wondering about simple and effective ways to add a touch of you and your partner's personality to the affair. To get started, here are a couple of simple points on how you can change things up and throw a wedding that everyone will remember.
Start With the Details
There are several ways for you to begin feeling inspired. Starting with small items and working your way up into the bigger picture can sometimes prove dangerous, as you do not want to get lost in the smallest of details. However, when looking for ways to incorporate your own style into your wedding, it is okay to pay attention to some of the smaller things first. Consider, for example, the centerpieces at each table. Instead of going for flowers, which is both expected and commonplace, think about something that might better speak to your personality.
If you and your partner share a hobby, or both love a specific type of plant, then see if you can come up with centerpieces that are in this vein. Some couples even go as far as to create rainbow-themed pieces for their tables. This might be a bit much for you, but some couples are drawn to the appeal of having a pride-infused wedding.
Time to Get Creative
There are some traditions involved with the wedding that you might not want to eliminate but could be just a bit better if you had the chance to change them up. The guestbook, for example, is something that most couples have at the wedding. Instead of going for a traditional book and pen, see if there are any fun ways for you to add the your personalities into the equation. This can be done in an easy way without having to spend too much.
For example, if you both enjoy reading, put a typewriter where the guestbook would go and have your guests type out messages of love. Another clever idea is to put out a large dictionary and ask guests to flip through the pages and mark specific words that remind them of you and your partner. Get as creative as you want, and make sure the final product is something that reflects the bond between you and your partner as well as the family and friends who will be in attendance.
Unique Explorations
The best way for you to add your own personality to your wedding is by discovering traditions that will work for your relationship. You do not need to adhere to any aspect of a wedding if it does not match your needs. If you have a specific cultural tradition that you really want incorporated, then this is a perfect way to infuse your history into the wedding and make it a special day for everyone there.
As long as you remain true to yourselves, your wedding is going to be a unique exploration of your love and connection. Do your research and see if you can get your wheels turning about other ways to break from tradition and try something entirely new. In the end, you will have a day you can look back on fondly and remember for the rest of your lives together.
Save