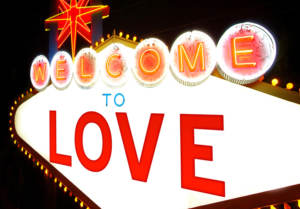 If you've just gotten engaged, one of the first things on your mind is planning the wedding. If you're considering a destination wedding or are thinking of eloping, tying the knot in a faraway place might sound both appealing and scary. For those wanting a getaway that's closer to home, Las Vegas might fit the bill. After all, it's both "the Wedding Capital of the World" and an LGBTQ-friendly city, and numerous businesses in the city are happy to help couples wishing to have a Vegas Gay Wedding.
First Order of Business: The Marriage License
Las Vegas is a popular wedding destination partially due to the ease in obtaining a marriage license. Clark County requires no blood test or waiting period, and county officials have made the process more efficient with an online pre-application and extended hours of operation for its Marriage License Bureau. Once you and your intended have completed the application, you'll need to pick up your license in person at the Bureau. There, you'll show your government IDs and provide the clerk on duty with your application's confirmation number. Once details are verified, you'll be out the door with your license, typically in less than an hour.
It's important to keep some things in mind before starting the application process. First, make sure both of you have up-to-date government-issued identification (usually a driver's license, state ID card or passport). Additionally, remember that your name on your Clark County marriage license must match what's on your ID. For this reason, transgender individuals may wish to complete any legal name change processes and update their identification before applying. More details are available on the Clark County Clerk of Courts' website.
You Don't Have to Let Elvis Officiate (Unless You Want To)
Many weddings in Vegas are based on spur-of-the-moment decisions. Appropriately, the matrimony industry there is well prepared, with many vendors providing their services during extended hours each day. However, it's a good idea to plan ahead for an optimal experience. Take advantage of advanced bookings to craft the nuptials that you and your future spouse desire. Also, if you're not eloping, beginning arrangements earlier will allow your guests more time to plan on being there with you.
To aid in your preparations, the Las Vegas Wedding Chamber of Commerce keeps a list of wedding planners, officiants, formal wear shops, wedding chapels, bakeries, photographers, reception venues, caterers and any other professionals you might need. Other resources, such as Vegas city guides and travel websites, also offer detailed listings. Many vendors in the city welcome same-sex couples, with services that allow you to craft your big day in practically any style or theme. Additionally, some joint wedding and honeymoon packages are available. So, you could have the King of Rock 'N' Roll officiate…or not. Nevertheless, there are plenty of ways to make your dream wedding happen.
After You Say "I Do"
Once you've exchanged rings, kissed each other and danced your butts off, the only thing that's left is the honeymoon. Meanwhile, your officiant will file your completed and signed marriage certificate with Clark County within ten days of your ceremony. When you're back home, you can order Proof of Marriage certificates directly from the county clerk's website.
What Happens in Vegas…
A Las Vegas wedding is one great solution for same-sex couples desiring a destination wedding but who don't wish to leave the country. The ease in obtaining a marriage license, plus the many vendors and LGBTQ-friendly options, are just a couple of reasons to hold your nuptials there. Furthermore, the endless variety of hotels, resorts, entertainment venues and other possibilities mean that you can craft your celebration of wedding bliss in the fashion you desire. Planning ahead and making sure details are in order before arrival will likely guarantee that your wedding will go off without a hitch.