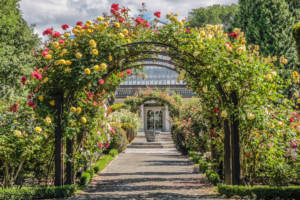 Chances are, you and your same-gender partner have needed to "think outside the box," taking unique approaches to blaze your own trails and craft the kind of life you desire. You're probably doing the same thing when it comes to your wedding, making it a reflection of your individual personalities as well as your love for each other. So…who says you have to get married in a church? If you both love the outdoors but are concerned about the intricacies of planning an outdoor ceremony, consider booking a botanical garden wedding. You'll get the best of both worlds: the beauty of outdoor spaces with indoor amenities to make you and your guests comfortable.
The Benefits of a Botanical Garden Wedding
Depending on where you live, your city may host a conservatory or botanical garden that's open for public viewing. In most cases, it is owned and operated by either a public university, a nonprofit organization, a zoo or a private charitable foundation. Many of these locations feature outdoor gardens and spaces that are available for public admission during warmer weather, as well as indoor facilities that are accessible the entire year. Inside horticultural collections are typically housed in rooms with glass walls and ceilings, yet these spaces are also climate controlled and furnished to provide comfort for both plants and people. Some couples find the wide variety of spectacular blooms and outdoor plant life to serve as the perfect atmosphere and scenery in which to celebrate their love for each other.
Due to the popularity of hosting events in these gardens and conservatories, most will have on-site banquet facilities available for rentals. Both outdoor and indoor options may be offered for your ceremony and reception, so it's just as easy to plan an inside ceremony in one of the gardens with an outdoor reception in a terrace dining area. Your guest list, budget, date, time of day and desired aesthetic should guide you as you select which areas of your venue to host your celebrations.
Research and Book Early
As botanical gardens continue to be a trendy, sought-after location for weddings, they also tend to book up very quickly. Sage planners typically advise starting to make arrangements at least 12 to 16 months ahead of your chosen date. At that stage, you'll likely find more options within the venue that fit your vision and budget. Be aware, however, that some of their most popular rooms and areas may book up to two years in advance, especially for evening celebrations with larger guest counts during the traditional wedding months (June through October). If your guest list is under 120 people, if you're getting married on an off day or your date is outside of wedding season, you might have better luck scoring a space.
It's also wise to read the organization's literature carefully before you choose a space and sign a contract. Many gardens and conservatories either have their own catering services or have partnered with a local vendor to provide them. In addition, some venues have created specialized packages for newlyweds-to-be. These can be as bare bones as space rental and food only, or as elaborate as full-service deals that also incorporate floral arrangements, photography, disc jockeys and other options. Be sure you understand their policies on outside vendors before hiring anyone else for your special day.
Plan Smart and Do Your Homework
Botanical gardens or conservatories are excellent choices in which to hold your ceremony and reception. They're local venues that provide gorgeous scenery as well as convenient facilities and dining choices for you and your guests. It's prudent to do your homework, be aware of your venue's policies and reserve it as early as possible. With many available options to personalize your special day, you'll find that you'll be able to make your dream wedding come true surrounded by nature's beauty.