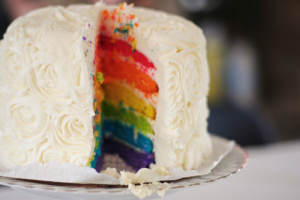 As you and your beloved are planning your wedding day, it's easy to find yourself fussing over every detail. That's perfectly natural, since the entire affair from start to finish is under your control. One major point of personalization is your wedding cake, and you have an endless variety of options in styling and flavors. You might decide that your sweet, artistic confection should be a prideful reflection of your love together, or your shared values of inclusion and equality. If you're running short on ideas, consider these fun suggestions to personalize this unique treat and have a prideful wedding cake.
The Deeper Symbolism of the Same-Sex Wedding Cake
According to Wikipedia's entry on wedding cakes, the tradition may be traceable back to medieval England, when sweet cakes were stacked to achieve a delectable tower over which the happy couple kissed. As weddings became more modernized, these cakes morphed into yet another way to infuse one's personal touch. Moreover, the cake has become a recognizable symbol of the struggle for marriage equality in the United States. Both before and after the landmark Supreme Court decision in 2015, news stories appeared documenting some bakeries' refusals to provide cakes for same-sex weddings. In these ways, the confection has become a powerful representation of the fight to find love in whatever forms it appears, as well as a way for these couples to forge a happy future together.
A Few Ideas to Get You Started
If you want to include some symbolic nods to pride and love in your cake's design, some simple ideas may help you accomplish this goal. A 2016 PrideSource article made a few suggestions, such as including colors of the pride flag. Depending on your event's theme and hues, you can incorporate the rainbow in either a bold or a subtle fashion. Try a cake with white icing containing six smaller layers on the inside, one for each shade in the pride flag. If you want a subtle approach, consider crafting this look in pastels in the same shades, or adding subtle floral touches in each hue.
For another approach to this sweet treat, consider including same-sex cake toppers. In the last few years, vendors have started specializing in customized figurines that can be made to look like you and your future spouse. However, you're not limited to these as your options. Sci-fi, fantasy and comic fans have gotten especially creative, using action figures or fictional characters modeled in fondant or gum paste to pull off the same effects.
Choose Your Baker Carefully
Even after Obergefell v. Hodges, some couples still find themselves contending with wedding vendors who refuse service to same-gender couples. Rather than go to the trouble of planning and paying deposits only to find your baker suddenly deciding to back out, it's best to be upfront when you're vetting vendors for your nuptial cake. Even better, considering using an LGBTQ-friendly baker for your delicious dessert. Many major metropolitan areas have directories of equality-minded businesses, such as Columbus, Ohio's Lavender Listings published by Stonewall Columbus. If your city doesn't have such listings, your recently wedded friends may also be able to recommend a baker.
A Few Final Words
Besides brainstorming some creative ideas for your prideful cake, you also need to make sure you plan in plenty of time to ensure your sweet treat appears without any delays. Most planning guides recommend finalizing your cake and bakery decisions about six to eight months before the big event. That should give you plenty of time to choose your designs as well as make sure you find a willing vendor. Following these suggestions should pave the way for the final details to be copacetic, and you and your beloved to enjoy a sweet beginning to your married life together.