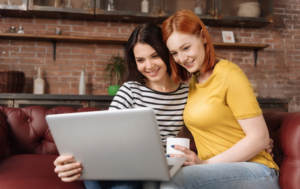 The world of film has always been an interesting one. Watching movies has become a big part of modern life. Whether you take a trip to the theater, binge new flix on Netflix, or rent discs from one of the boxes tucked away in parking lots across the planet, there are many ways to indulge in a movie. While many movies are aimed to entertain, there are far more that offer insight and clarity on the world. Sitting back with a good movie can open up your mind in new ways.
When you and your partner are planning for your upcoming wedding, you might be in desperate need of a way to relax now and then. Popping in a movie can help, but you may find it is more exciting to watch a movie with LGBT themes. There have been tons of inspiring, exciting, and hilarious movies that connect to the gay community as a whole. Whether you're looking for something political, comical, tragic, or uplifting, you can be sure these recent inspiring LGBT films are worth checking out when you need a break from the wedding planning.
"Moonlight"
It would be impossible to make a list like this without referencing the recent breakthrough film "Moonlight." The story takes viewers along several early and important stages in the life of a young man. The film reached critical acclaim last year due to the fact that it was an LGBT film with a black man as the lead. Despite how rich and diverse the LGBT community is, there are still many problems in regards to representation. "Moonlight" was able to explore a story that tons of people could empathize with, and many more could gain insight from viewing.
While the struggle of the main character to accept his homosexuality is one of the major themes of the film, it is far from the only point focused on. Drug abuse, homelessness, poverty, and desperation are all themes that help to drive this movie and make it such a compelling and moving piece of film.
"Zootopia" 
Here's the thing. You might not assume an animated film about zoo animals could be important for LGBT issues, but you would be wrong. While "Zootopia" seems to be just another Disney flick aimed at entertaining children and selling a bucket load of related merchandise to families, the deeper lessons of the movie are ones members of oppressed communities can relate to. "Zootopia" tackles xenophobia, which has become a huge problem across the world in recent years, and aims to entertain and enlighten through the story of lovable zoo critters and the way they interact.
You do not need to have little children in your home to appreciate the message of this movie. While it might not be explicitly gay, it is very easy to scratch at the surface and see how marginalized peoples across the world can appreciate the story being told.
"First Girl I Loved"
It isn't easy to be young and in love. No matter what your sexuality might be, there are many lessons to learn when first getting in touch with romance. In "First Girl I Loved," the youthful heroine develops a crush on one of the more popular girls in her school. After she reveals this information to her friend, it leads the teens on journeys of love triangles and self-discovery commonplace to the "coming of age" genre.
Take a look at some more recent movies that might catch your interest and have a date night with your partner. Slowing down the madness of the wedding planning process might be beneficial for your mental health. Unwind with a good flick and allow yourself a bit of needed time to reconnect with your significant other.