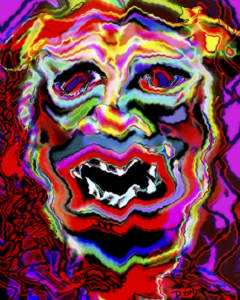 Say the word "queer icon" and you might elicit a wide range of mental imagery. For example, you might see prominent singers made famous by their LGBTQ fandoms, such as Donna Summer and Janet Jackson. The openly gay Star Trek actor and internet sensation, George Takei, might come to mind. Some might even mention luminaries, such as the legendary musician and outspoken activist Michael Stipe. However, a surprising new pop culture phenomenon has been added to their ranks: the tale of the Babadook. He's being embraced as a symbol of LGBTQ pride, thanks to a hilarious internet meme and some creative thinking.
What in the Heck Is a Babadook?
A June 2017 article in the Los Angeles Times describes the Babadook as a "top-hat-wearing, pop-up-book-writing demonic figure" who is the antagonist of an eponymous 2014 Australian horror flick. In the film, the being comes into the lives of an Australian family and refuses to leave, despite countless measures taken to rid their house of his presence. By the end of the film, the family has resigned themselves to feeding him daily and letting him stay in their basement.
How Did He Become an LGBTQ Icon?
Vox reported about the late-2016 appearance of a screenshot on Tumblr, which depicted the film's place in Netflix's LGBT movies section. While some have speculated that the image may be a cleverly photoshopped hoax, it was quickly re-shared worldwide, fueling its instant status as an internet meme. People enthusiastically developed a discourse around the movie's monstrous character, drawing parallels between his noncompliance with the family's desires for him to leave and the refusals of queer and transgender people to "fade away" and become invisible.
During the months-long discussion around the pop culture impact of the Babadook, several arguments arose that countered the idea that the creature could be symbolically queer. In the original context of the film, his orientation and gender are never explicitly discussed or referenced. However, Harvard professor and author Michael Bronski explains why a queer read of the Babadook may be valid. He points to the community's adoption of celebrities and fictional characters who are not LGBTQ at all, such as Judy Garland. In the 1950s and 1960s, it was common for a gay man to ask another man if he was a "friend of Judy's." This was code, used by gay men to find each other during that time.
Queer Coded Themes in the Horror Genre
Additionally, Bronski references coded portrayals of queerness in the fantasy and horror genres. For example, the 1871 novel "Carmilla" depicts a female vampire and her female victim with lesbian undertones. Bronski adds that the story in the Mary Shelley novel "Frankenstein" has been read as an allegory for gay men who are rejected, ostracized and even hunted down. Later pop culture works such as "The Rocky Horror Picture Show" have riffed on these same themes, even expanding them into new territory.
Questions About Bisexual Erasure and the Babadook's Future
As the fictional creature made his rounds on social media, some people started proclaiming that the "B" in LGBTQ stands for "Babadook." While enthusiastic and humorous, some warn that statements like these erase the existence of bisexual people in LGBTQ communities. A June 2017 Nerdist piece referenced these concerns, which are still being raised as others question the creature's continued status as a cultural phenomenon. Some see the sharing of the meme by popular social media celebrities such as YouTuber Tyler Oakley as evidence the Babadook is on his way out (no pun intended). In the meantime, the top-hatted icon continues to live on Facebook, Twitter, Tumblr and other sites, festooned by Pride flags and flashy feather boas and adored by many who have been shunned and rejected for their queerness.