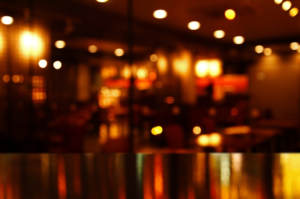 These days, the ethereal wedding is all the rage. If you scan Pinterest for images about ideal ceremonies, you are sure to see events packed with visions of tea lights in glass jars illuminating old barns. This is because many couples are opting to have calm and ambient weddings. Marriage might be a cause for celebration, but there are plenty of couples who want to enjoy their unions in less raucous ways. If this sounds appealing to you, then you could need a bit of assistance with getting started.
One main way to give your wedding this feel is by focusing on the lighting. The correct type of illumination will make a huge difference when you are attempting to cultivate an atmosphere of serenity. To get your wheels turning, it might be beneficial to take a look at some of the more popular lighting trends for this type of wedding.
Strung Out and Burning Bright
String lights are a huge feature of ethereal weddings. Whether you are planning on hosting an indoor reception or one that is outside beneath the twinkling stars, you can find a place to hang some string lights. These are excellent sources of light because they can be used to highlight specific features of your reception or can be grouped to act as the primary light source. For example, you might want to hang a bunch of these lights around the table where you put your place settings. The soft glow can help guests find their names and enter calmly.
You may also want to use these lights to create a net of makeshift stars for your dance floor. If you can't make it outside but still want to craft the impression of the sparkling firmament above, hang a series of lights above the dance floor in a crisscross pattern. This netting will gently hang above the guests, creating beautiful points of light for them to dance beneath. Get creative with how you use string lights, and you should be able to come up with some wonderful ways to enhance the mood of your reception.
All Natural
Natural lighting is also a big part of the ethereal wedding aesthetic. This can be tricky, as location and time of year will be big factors in determining the type of lighting you get. When the sun goes down, you will also be left with the decision of how to light up the night. Many couples find that it can be quite easy to maintain a natural feel to a wedding after dark by using candles. Open flames at weddings are not always the best decision, especially when alcohol and dancing are involved. To stay safe, plan ahead.
Placing old jam jars around the venue and filling them with tea lights can be a perfect way to light your space safely. These flames will be controlled, so you will not need to worry about a drunk uncle holding his unbuttoned sleeve too close to a burning wick. Having members of the catering or venue staff keep an eye on the candles can keep them lit throughout the course of the night. The last thing you want to be mindful of on your wedding night is whether or not the candles are still burning.
Keep Calm and Get Married
There are many different ways to celebrate a wedding. If you and your partner are people who like to maintain a more relaxed approach to life, then your wedding should reflect this. When planning for a more romantic and ethereal affair, be mindful of the lighting that you use. Adding some string lights to the equation or lighting a few candles can be all that it takes for you to craft the right environment. Play around with options and host a wedding that will make you feel serene and in love.