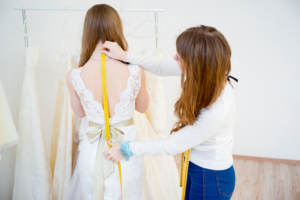 Choosing your wedding attire is a key part of planning your same-sex nuptials. Your attire not only can complement your event's theme and aesthetics, but also reflect your sartorial sensibilities. Looks, comfort and proper fit are important aspects to consider. If you've never shopped for formal wear or if you're not sure where to start looking, take heart. Follow these essential tips while shopping for your apparel, and you might discover that crafting your special day's ensemble is easier than you imagined.
Daytime, Nighttime, Anytime
The formality level of your event will usually dictate the type of clothes you'll choose. In turn, Martha Stewart Weddings points out that factors such as your venues, budget, theme and even the time at which you start your festivities can impact whether your celebration skews more toward a formal setting or a more casual atmosphere. A general guideline to keep in mind is that weddings held prior to 5 p.m. are usually more casual than affairs scheduled for the evening. However, this isn't a hard and fast rule. Saying "I do" in a formal daytime setting can be done, and on the flip side, an informal 6 p.m. ceremony is definitely doable.
What To Wear, What To Wear?
Once you figure out the theme, time and atmosphere of your happy event, selecting your attire will be easier. If you're going formal for daytime, don't rush to break out the tuxes. As Huffington Post UK contributor Marina Licht explains, such occasions usually call for "morning dress," which typically includes a coat with long tails, a waistcoat, grey striped trousers and an ascot. Save tuxedos for evening, or if you like, opt for a smartly tailored suit instead. As for frock wearers, try selecting a dress that matches the formality level of your event.
Coordinate Your Looks
Whatever the two of you decide, you should make a reasonable attempt to synchronize your looks. Two brides can both rock gowns down the aisle, choose dapper-looking suits or mix and match with one in a dress and the other in a suit or tux. For instance, Mashable contributor David Yi presents some savvy style options in a 2015 article. John Paul Tran at Martha Stewart Weddings also offers some fabulous advice for suit wearers who want to pair up. Some ideas include choosing the same suit in different hues, opting for dress shirts in different colors and patterns and selecting different styles of neckties. 
Time Is of the Essence 
Conventional wisdom usually recommends that suit and tuxedo wearers finalize their choices about three months before the big day, but that usually applies to rentals. However, a 2015 Business Insider piece indicates that rental tuxes are on their way out due to shifting trends: less formal weddings, online tuxedo vendors and a new preference toward buying as opposed to renting. For those purchasing their attire outright, it might be prudent to shop and schedule fittings a little earlier. Final dress fittings are usually performed a month before the ceremony.
Say "I Do" in Style
Fashion will play a key role in your wedding's look and feel. With seemingly endless options at your disposal, putting together your ensemble might prove to be super easy. On the other hand, you may be plagued by indecision from all the potential choices. Solidifying your event's theme, time of day and formality level should help narrow down your selections. Once you and your sweetie have made these essential decisions, try picking apparel that fits in with your wedding day vision, and work together to coordinate your looks. Don't forget to attend your fittings, and schedule them far enough in advance to ensure your attire is ready for the big day.