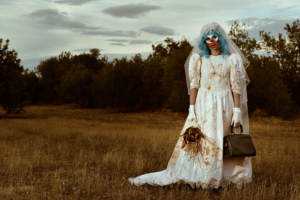 Halloween brings with it many treats for the eye, the olfactory senses and the palate. Whether it's the smells of cinnamon, apple cider and a crackling wood fire or the impressive array of orange, plum, ruby and black that adorns many homes, autumn brings a wide range of sensory pleasures that can work wonderfully in weddings held during the season. If you want to go for a delightfully spooky aesthetic or riff off pop culture themes, you've got a huge range of stylish ideas available for your Halloween wedding.
Kiddie Treats, Grown-Up Style
Halloween candies and desserts are always in vogue. If your tastes run to treats of the sugary kind, Lindsay Goldberg Jones at Woman Getting Married offers several sweet suggestions. With cupcake towers still a popular option, it's easy to work in scary designs like skeletons or gravestones anchored in a crumbly chocolate "layer of dirt." For those who want kitschier retro elements, try some strategically placed glass candy dishes full of candy corn, candy-coated chocolate bites, gummy worms or pumpkin gumdrops.
Of course, your delectable edibles aren't just limited to dessert time. If you're looking for an alternative to floral centerpieces, Budget Brides recommends one favorite fall classic: caramel apples. Arranged cleverly on upscale-looking plates, these gooey, tempting beauties double as both décor and tasty munchies for your guests.
Amp Up Traditional Halloween Decorations
If you're going to do a Halloween-themed wedding, you can't just make do with the standard house and yard decorations from the department store. To inject some glam and sophistication into your designs, Goldberg Jones advises that couples steer clear of anything bright, loudly colored or plastic. Instead, opt for muted tones of orange and infuse some gold, white and black. Rustic decorative touches, along with accents of jewels, black lace and translucent draped fabrics, can score high in both looks and cost-effectiveness. Repurposed wine bottles are one great example, serving as elegant holders for soy wax candles.
Choose a Holiday-Related or Pop Culture Theme 
Including distinctive fall-season elements into your wedding doesn't have to stop at your food or table décor. Offbeat Bride profiled a gay couple's masquerade-themed nuptials, which included the donning of ornate half-masks by both the happy newlyweds and their guests. They incorporated other gorgeous touches such as silver lanterns carried by their attendants, a love spell recited by their officiant during the ceremony, psychic readers at the reception and wedding rings stored in a small black coffin-shaped box.
More daring couples have taken their love of the paranormal a step further, holding their nuptials in haunted houses and mansions. The Knot featured some of these popular locations, including the Shining Hotel in Estes Park, Colorado. While sites like these are known for their fantastic legends and accounts of otherworldly occurrences, they also feature stunning architecture and charm from bygone eras. Other soon-to-be-married pairs have worked in darker pop culture elements such as imagery from Tim Burton's films, zombie apocalypse media, mystery dinner theater and "The Phantom of the Opera." Of course, autumn is also the season for renaissance festivals in many parts of the country. A medieval wedding done in rich dark hues of black, purple, burgundy and sapphire might also fit the bill.
Seasonal Ways to Say "I Do" 
These and other Halloween-themed ideas might give you a good reason to plan your nuptials close to the end of October. If you're looking at getting hitched next year, keep in mind that you should start your wedding planning about a year in advance of your chosen date. Depending on where you live, your favorite scary venues might book up quickly, so make inquiries as early as possible. With cultured takes on fun holiday elements, your Halloween wedding is sure to be unforgettable.