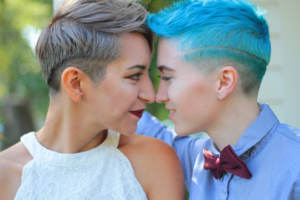 When planning your wedding, money can be a difficult topic to contend with or even discuss. That's partially because people tend to have strong emotions connected to their financial matters. Keeping a clear head while nailing down the dollars-and-cents aspect of your nuptials can be challenging. However, you and your sweetie can craft a great celebration by following some wedding budget basics and a few additional useful tips.
How Do You Feel About Money? 
In a June 2015 Huffington Post article, writer Deevra Norling divulged a fascinating observation by financial expert Suze Orman. Shame and anger are two very human emotions surrounding money, and they can stand in the way of making the best fiduciary decisions for ourselves and our futures. Thanks to observing our parents' struggles, hearing any beliefs they expressed about money and perhaps experiencing socioeconomic inequalities, we tend to form our beliefs about finances starting from a very young age.
Our beliefs and feelings about financial matters usually result in a set of "money scripts" that we tend to follow. A May 2013 piece in the Dallas Morning News listed and explained these four typical scripts:
Status, which focuses on owning the newest and best goods
Avoidance, a belief that money is inherently bad
Worship, the idea that money will solve all problems
Vigilance, which embraces frugality
When taken to extremes, these approaches may lead to some common wedding budget planning pitfalls:
Planning a trendy and extravagant yet unaffordable event
Sidestepping the money issue and refusing to budget
Crafting a spending plan then ignoring it to splurge on "extras"
Creating an austerity budget, resulting in an unsatisfying event
The key thing to remember, regardless of the scripts you've developed, is to avoid tying the price tag of your affair to your self-image. So long as you have a solid plan for your nuptials, select reliable vendors and follow through with your plan, you'll end up with an affair that is memorable, reflects your values and is enjoyable by your guests.
How Much Moolah Will You Need?
The Knot disclosed in a 2017 survey on LGBTQ weddings that same-sex pairs expended around $18,000 for both their ceremonies and receptions. For many couples, even this figure can be out of reach or they may wish to reserve that chunk of money for something else. In either case, it's still possible to throw a meaningful, low-budget celebration. Weddings pricing out under $5,000 are becoming more common, and planning websites such as Bridal Guide offer a plethora of ideas of how to produce a stylish affair that you'll love while not breaking the bank. These plans can be adapted and customized according to your tastes and those of your partner.
Cutting the Right Corners
Fortunately, going frugal for your wedding doesn't mean sacrificing elegance or fun. Keeping your guest count on the small side means you'll need fewer printed materials and favors, a smaller cake, less food and a smaller-sized venue. Also, try shifting your event to an off-peak date and time. A brunch or lunch shindig may cost you far less than the traditional evening nuptials. Finally, consider selecting a low-cost or free venue, such as a state park, a friend's backyard or the fellowship hall of your house of worship.
Money is not an easy subject, especially when it comes to wedding planning. Thankfully, you can arrange a lovely affair with a few wise approaches. First, own up to any difficult emotions you have about financial matters. Next, be realistic about what you and your sweetie can afford. Also, don't be afraid to use cost-cutting strategies. Thousands of couples prove time and time again that you don't have to spend a mint to make your wedding day meaningful.