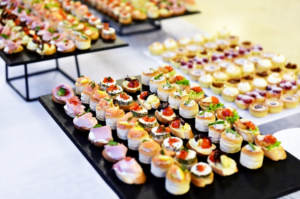 Engaged couples searching for a wedding caterer usually receive some common-sense advice and tips. With that said, it's important to go beyond the basics to ensure you find the best professional for your event. While asking the right questions is a critical starting point, it's also important to understand some other key aspects of getting the menu, food and service package you desire.
Nothing Happens Without the Money 
The very first thing you'll need to do before shopping for caterers is determine your wedding budget. The Knot spells out a typical breakdown of nuptial expenses, revealing that the reception can constitute nearly half of your costs. Since the average affair prices out anywhere between $18,000 and $31,000, you might easily drop a few grand on the reception alone, with a good chunk of that devoted to food and drink. Knowing your numbers not only helps you select a vendor but it gives the professional a guide to putting together affordable options.
Narrowing Your List
Before you delve into the details, there are some bare-bones steps you need to take in booking a caterer. The Knot contributor Libby MacCarthy provides a rundown of how to find a trustworthy, high-quality professional:
Obtain and speak to references
Verify that each caterer has liability insurance
Confirm health department licenses
Understand vendor deadlines
Read all contracts before signing
Brides writer Allyson Dickman also stresses the importance of paying attention to a caterer's communications with you. Slow responses to your inquiries and getting key details wrong are serious red flags. Moreover, performing a taste test is a must. If you can't sample the cuisine before signing on the dotted line, Dickman recommends insisting on a contract rider allowing you to back out if the food doesn't meet your standards after tasting. Finally, make sure you aren't running afoul of any rules set down by your venue. Some reception locations require you to get your choice of food vendor pre-approved or have clauses in their contracts mandating your usage of their own catering services.
Is Your Caterer LGBTQ-Friendly?
It's hard to imagine why any business would turn down opportunities to make money, but there are still a few bakeries, caterers, photographers and others making headlines when they pay the price for their discrimination against same-gender couples in court. For that reason, BrideBox suggests immediately disclosing to potential vendors that you're holding a same-sex wedding. Brittny Drye at The Knot suggests reviewing a caterer's social media sites, photos and the language on its webpage for clues that it's LGBTQ-friendly.
Understanding the Pricing Structure
Several factors affect how much you'll shell out for food on your special day: the number of attendees, your food and alcohol choices, and fees for setup, meal service and cleanup. Furthermore, your pricing can be impacted by whether you pick a seated full-service meal, a buffet, a family-style dining option or food stations.
Chat with each professional about what the per-person or per-plate cost includes. Most likely, it will encompass hors-d'oeuvres, dinner, non-alcoholic beverages and cake cutting. Prices can differ significantly if you go for a beer and wine only setup or choose an open bar. Lastly, don't forget to inquire whether the caterer provides bartenders or if you'll have to hire your own.
Tie the Knot With Good Eats
Thoroughly vetting vendors, comprehending your options and communicating openly with each professional are all keys to sourcing the right caterer for your wedding. It's also wise to confirm that you're hiring an LGBTQ-friendly establishment so you don't get a nasty surprise if it decides to pull out of your event. Planning your wedding can feel overwhelming, but using a systematic approach to hire professionals and knowing what you can afford can save you a lot of headaches.