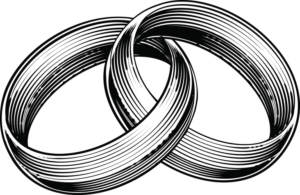 Wedding planning involves a collection of both large and small details. Yet long after the cake has been eaten and the band has gone home, the two of you will have lasting testaments to your commitment: your wedding rings. How do you find the perfect ones that both you and your budget will adore? A quick wedding band shopping guide with some essential tips should prove to be helpful.
Before You Shop, Consider the Costs
If your blood pressure spikes at the mere thought of your rings' potential price tag, you're not alone. Thankfully, diamond-encrusted wonders aren't the only options you have. Throughout history, wedding rings have been crafted using a wide range of designs, from simple bands forged from precious metals to elaborate custom-made masterpieces.
Autostraddle contributor A.E. Osworth offers tips targeted toward engagement ring buyers, but some of her best practices can apply to finding your wedding bands. First, she recommends that couples ignore pressures to purchase expensive pieces of jewelry. While diamonds have been associated more with engagement rings than with wedding bands, she suggests that your jewelry can feature other types of gemstones. Moissanite, a naturally occurring form of silicon carbide with a diamond-like appearance, is one new popular choice. Depending on the vendor you choose, you can have anything from emeralds to nontraditional stones such as turquoise or lapis lazuli set into your rings.
Mind Your Metals: Common and Uncommon Options
Besides gemstones and other embellishments, your wedding bands' prices are also influenced by metals from which they're crafted. In an October 2017 Equalli article, contributor Kelly Price names several materials used in contemporary rings, ordering her list from the priciest to the least expensive versions:
Gold, soft but perpetually fashionable
Platinum and palladium, durable alternatives with a silvery appearance
Silver, inexpensive but prone to bending and scratching
Titanium, a strong and affordable metal
Zirconium, a sturdy substance similar to titanium
Steel, a strong alloy that's polished for a modern look
Tungsten carbide, a heavy and strong conductive compound
Gold is usually available in yellow, white, rose and green tones, while titanium, steel, zirconium and tungsten carbide rings are typically made in dark or neutral hues such as gray, silver, white or black.
Smart Tips for Sourcing Your Rings
Price strongly advises that you do your homework before you hit up any brick-and-mortar or virtual storefronts. First, browse online to get ideas and set a budget while you're at it. Next, don't assume that your rings must match. While you both might love the same design, you can select completely different versions or go with rings that complement each other but don't look exactly alike. Also, be aware of your metal allergies and pick hypoallergenic versions to avoid skin irritation. Finally, you should select materials and designs that are appropriate for your lifestyles. If you regularly perform strenuous physical exercise or manual labor, for example, you may want to go with harder metals such as palladium or titanium and avoid tiny stones or embellishments that can easily come loose or sustain damage.
Selecting your wedding rings is a joint effort, one in which you'll need to consider aesthetics, cost and practicality. Research designs and materials to zero in on styles you both adore, and find bands rugged enough for your lifestyle. Moreover, set a budget to narrow down your options and avoid overpaying for your shiny prizes. Most importantly, the two of you should honestly discuss what you want from your rings before you even start browsing. You'll likely know right away when you've found your perfect rings, but using smart strategic tips and adhering to a firm price range will help you achieve your goals.