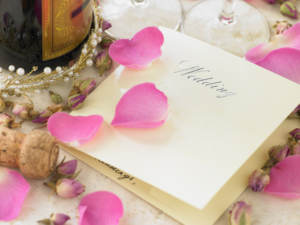 Choosing your invitations is one major task to tackle when planning your wedding. You probably have a lot of questions concerning wording, formatting and styles. Meanwhile, you may be trying to figure out whether to order them from a professional printer, go with a DIY approach or forgo paper altogether and choose digital versions. The available options can seem overwhelming, but a brief guide to navigating the wedding invitations landscape can prove to be useful.
Professional, DIY or Paperless? 
The first decision you'll need to make is what medium to use for your invitations. Some couples turned to designing and printing their own invites in the late 1990s after finding professionally printed invites cost prohibitive. However, the advent of digital printing has brought some of those costs down. Moreover, it's vital not to discount the labor involved with DIY invitations plus the prices of paper and ink. Choosing between ordering yours from a vendor and producing them on your own may end up becoming a case of "six in one hand, a half dozen in the other."
Meanwhile, the debate over paper versus digital continues. Some etiquette experts give digital invites the green light. At the same time, Huffington Post contributor Erica Laudon mentions that many etiquette books still insist paper is the way to go.
Printing Your Own? Don't Forget Labor and Materials
If you're considering the DIY route, Brides writer Jaimie Mackey dispenses some sound advice. You should start sourcing your supplies a minimum of three months in advance, considering you'll need to mail the invites at least eight weeks prior to your wedding. You should also factor in time to design, print and assemble your invitations. Lastly, you should count the total cost of supplies, including ink, paper and embellishments, while evaluating your equipment to determine if it's up to the task. If your printer's not very robust or your materials costs begin to equal that of outsourcing your invites, you could be better off leaving them to the pros.
Tips for Digital Invitations
For those persistent in pursuing paperless versions, it's crucial to keep a few things in mind as you proceed. Writing for Medium, tech adviser Sarah Schacht maintains that they can be appropriate even for couples with elderly relatives or not-so-tech-savvy folks on their guest lists. To ensure that none of your invitees are left by the wayside, make sure that you do the following:
Ship your digital invitations eight weeks in advance.
Verify that your email addresses are correct.
Clearly list the names of those invited.
Follow up with a phone call if you still have non-responders after two weeks.
Wording for Same-Sex Wedding Invites
Customarily, the bride's name has appeared first in the text of a wedding invitation since her parents were usually the ones hosting the event. However, Jaimie Mackey at Brides reveals that same-sex couples have a few ways to approach this issue. Mackey recommends that if one set of parents is footing the bill, their child's name should appear first. Couples who are self-hosting or whose parents are jointly chipping in can list their names in any order they prefer, but the wording is typically determined according to whoever's hosting the affair. The Knot includes a few specific examples that can guide you as you compose your own text.
You anticipate your wedding to be a happy occasion, and you want those closest to you to share in your joy. In spreading the good news, you can showcase your personal style and give your guests a subtle hint about the theme. Professionally printed, do-it-yourself and digital invitations all offer their own advantages and disadvantages. It's up to you to choose what works best to effectively balance aesthetics, logistics considerations and budgetary concerns for your nuptials.