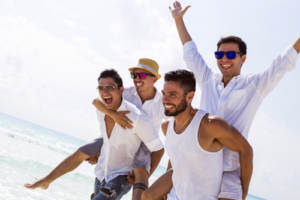 Since many wedding-related customs evolved around heterosexual pairings, LGBTQ couples may decide to forgo some while retooling others to fit their lives and values. One of these is the prenuptial last hurrah that usually takes place a day or two before the wedding itself. No matter what you call this kind of party, transforming a typically heteronormative tradition into one that celebrates a guest of honor's personality and interests takes some work and creativity.
Will You Host One Party or Two?
Brides writer Jaimie Mackey reveals that coed parties are more common, especially when the spouses-to-be prefer the same types of activities. Alyssa Brown of Martha Stewart Weddings echoes Mackey's sentiments and proposes that you can host one party for both halves of the couple, especially if they share many friends and pastimes in common. If you're an honor attendant for one of the spouses-to-be, team up with your counterpart to share ideas, planning responsibilities, and expenses. 
On the other hand, MEL Magazine writer C. Brian Smith and Pridezillas advise that you plan two separate affairs. Smith argues that gay grooms should each get their own celebrations, cautioning readers that a joint bash could turn into a low-key engagement party instead of an event with a cranked-up vibe. In her Brides article, Mackey adds that two individual parties may be ideal if each partner has different ideas about how to celebrate. Both Smith and Pridezillas suggest that the two groups of revelers can either have dinner together before leaving for their separate parties or decide to congregate at a third location later in the evening.
Selecting Party Themes and Activities
Regardless of whether you're throwing one bash or two, you'll need to focus your fête around one or two featured activities. While the traditional forms of entertainment for bachelor and bachelorette parties aren't completely out the window, you're not limited to those possibilities. Whatever you decide to do, it's important to ask your friends what type of celebrations they'd like and honor those preferences as you plan. At the same time, you can pull off a wonderful surprise for your friends by keeping some of the details secret.
For joint parties, Brown emphasizes that it's a good idea to include activities both your guests of honor will love. If you're stuck for fun ideas for your prenuptial bashes, take a look at these suggestions courtesy of Brides writer Whitney C. Harris, Martha Stewart Wedding's Alyssa Brown, The Knot contributor Elise Proulx, and MEL Magazine's C. Brian Smith:
Road trips to excitement-packed destinations
Outdoor adventures such as rafting, camping, kayaking, or fishing
Drag, comedy, or theatrical shows
Wine-, scotch-, or whiskey-tasting parties
Backyard pool parties or barbeque bashes
Board or video game mini-tournaments
Food-focused festivities
Weekend spa getaways
Group classes for fun activities
Wise Planning Tips To Consider
When planning your friends' day, night, or weekend out, it's vital to ensure that you keep practicality in mind. The Knot's Elise Proulx advises against scheduling the event on the evening before the ceremony to avoid your guests of honor feeling hungover or tired on their wedding day. Instead, she recommends throwing prenuptial parties anywhere between one month to one week before the big day. Additionally, make sure that you select a limousine, taxi service, or designated driver to prevent anyone from getting behind the wheel while intoxicated.
Organize a Prideful Party
Prenuptial celebrations were originally intended to commemorate a person's upcoming wedding and transition from single to married life. You can undoubtedly infuse some of that ethos into a modern fête. At the same time, personalizing the party and staying organized are both vital steps for creating an event that your soon-to-be-married friend will enjoy.