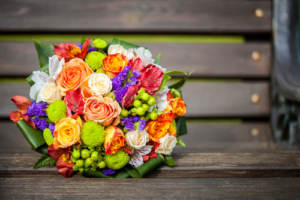 Wedding trends tend to change quite frequently. Though each year brings about new and exciting options for couples to consider, know what's "in" can prove to be a bit challenging. Luckily, you can rest easy knowing that most fads don't shake things up too drastically. Even if your wedding features "last year's styles," you don't have to worry about the décor seeming too outdated. The best way to keep the aesthetic of your wedding fresh is by checking in with current trends from time to time to see what adjustments you can make to your own plan.
Give yourself a moment to explore some of these décor trends for weddings in 2018. With a bit of time, you'll be ready to take advantage of all sorts of exciting visual options to keep your event as current as possible.
Be Bold, Baby
Over the last few years, a number of bridal blogs and big designers started to push away from the idea of using a lot of color when planning a wedding. While neutral colors and stark whites have been in fashion for a bit, it seems that attitudes this year are pushing back against this fad. Where simple palettes were the norm, couples are now experimenting with bolder options. This can be very exciting for brides and grooms who really want to infuse their events with some specific, vibrant shades.
The beauty of taking advantage of loud color schemes when planning your wedding is that you have the opportunity to really bring out your personalities through the various palettes you consider. Are you and your partner daredevils who like to live life on the edge? Then perhaps a décor scheme that involves a lot of bright reds and pinks can help to capture this excitement. Go crazy when selecting your colors and consider ideas like colored glassware, bright centerpieces, and whatever else helps you take the idea of "bold colors" to new heights.
A Pleasant Setting
Another popular trend for 2018 that keeps popping up is the idea of using a backdrop during the ceremony. This idea won't make sense for a number of venues, especially those that already feature some stunning views. Of course, getting married in a space that is not visually appealing can often prove to be a letdown in some ways. By using a backdrop, you can completely transform the way your ceremony appears and help to capture the feeling you envisioned when first planning your wedding.
Over the last decade or so, photo booths have become a common sight at many receptions. These vendors often bring backdrops with them to create more of an exciting visual appeal for the photos. If you're curious about using a backdrop for your ceremony, it can make sense to check with your photographer (or whoever is providing the photo booth) before going to other sources. You may very well discover that you have a ton of exciting options waiting for you without having to search much.
See the Sign 
Finally, it appears as if creative signs are sticking around as a popular wedding trend. Some events demand the need for signage, especially when guests need to navigate complicated grounds to find their way from one point to another. By getting creative with how and where you display your signs, you can keep things interesting and add a touch of yourself into each message.
Picking the right décor for your wedding can often be a long process. If you're looking to stay current with some of the more popular wedding trends, then it can be a good idea to read over which fads are hot and which have faded. While you may not use all of the ideas you love, you can definitely feel a bit of inspiration by checking out what others are doing for their own events.