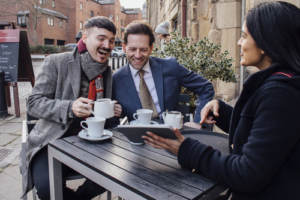 Planning a wedding takes a lot of work. With so many details to mind, it's easy to get bogged down or feel overwhelmed. You may decide that hiring a planner is a great convenience or an absolute necessity, but how do you choose the right one? Thankfully, some useful information and sage wisdom can help you select a professional who best meets your needs and those of your partner.
What Kind of Professional Do Do You Need?
When searching for planners, you may encounter other kinds of professionals who call themselves coordinators or designers. However, it's important to understand what types of services vendors in each category offer. Jamie Mackey and Lauren Matthews explain the differences between the three in a March 2018 Brides article:
Designers guide critical elements of your event's aesthetics, including its color palette, décor, and floor plans.
Coordinators step in about a month before the big day to handle final logistics such as vendor scheduling, product deliveries, and the rehearsal.
Planners take charge from the beginning and can help you hire vendors, negotiate contracts, manage schedules, determine floor plans and visual aesthetics, and much more.
If you're someone with a natural gift of organization and have a decent amount of time on your hands, a coordinator can help ensure that you don't lose track of both major and minor details. Those needing artistic inspiration and guidance could benefit most from a designer. Meanwhile, busy individuals with little planning experience and who wish to minimize their stress may get the most money's worth out of a planner. The Knot contributor Camille Chatterjee points out that a planner can help you vet vendors to find inclusive officiants, bakers, venues, photographers, and other professionals.
Understanding Your Planner's Services and Fees
Wedding Wire breaks down the usual costs of hiring a planner. The median range is generally between $950 and $2,500, but the national average sits at around $1,500 for most couples. Most planners' services cover both the ceremony and reception, but many will also assist with rehearsal dinners and any post-wedding noshes for an additional fee. A wedding planner's package may include several key services:
Vendor and venue selection
Organization of paperwork such as budgets, contracts, and schedules
Wedding prep tasks, including addressing invitations and designing seating charts
Communicating with your officiant and vendors
Coordinating wedding-day activities
Post-wedding work such as cleanup, vendor tips, and returning rental items 
These are typical industry practices, but each planner offers a unique menu of services. Be sure to read every vendor's website carefully or obtain a breakdown of its services in writing.
Hiring the Right Professional
If you decide that you need a planner, your next step is finding someone who fits the bill. Reviewing vendors' lists of services is just a start, but The Knot urges readers to peruse photos of recent weddings to get an idea of their styles and confirm their membership in industry associations such as the American Association of Certified Wedding Planners.
Next, you need to draft a list of three or four potential selections and then meet with each one individually. During these initial sessions, you should discuss any style and theme ideas as well as other goals you have for your event. Don't forget to confirm that they're LGBTQ-friendly, and while you're at it, contact their references, review any formal proposals they're drafted, and compare notes before you sign any contracts or make a down payment.
Make Your Wedding Vision Come to Life
For many couples, wedding planners provide valuable assistance in staying under budget, finding trustworthy vendors, and managing event schedules. LGBTQ couples may also find them to be indispensable in securing friendly vendors and venues. By doing a bit of homework and trusting your gut, you'll snag a professional who makes your wedding visions become reality.