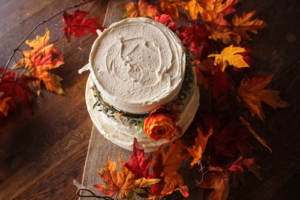 Autumn has arrived, and with it comes the feeling of change. While the leaves are turning from their summery greens to shades of red and brown, you may be preoccupied with planning for your upcoming wedding. This can be a great season to think about tying the knot, especially when you consider the natural beauty of this time of year. If you and your significant other want to get married during the fall, then you might need a couple of bits of advice for how to make the most of this magical season.
Give yourself a moment to look over some of these pros and cons of getting married in the autumn. The more you learn in advance, the easier it is going to be for you to plan an ideal event that fits the season.
Colorful Leaves and Looming Holidays
First, when it comes to decorating, the natural aesthetics of autumn tend to be ideal for planning a wedding. From the spectacular colors found in the leaves to the rustic textures often seen throughout the season, there's endless inspiration to be found for your own décor needs. You also may discover certain vendors and venues offer fall discounts to couples, especially since peak wedding season tends to end as the summer comes to an official close.
Despite how many benefits seem to come with planning a fall wedding, you also need to think about some of the negative aspects of the season. For one, the weather can be a bit unpredictable. You might anticipate a chilly day of festivities only to get stuck with the lingering humidity of late summer. The holidays that land in the autumn, like Halloween and Thanksgiving, can also cause problems when picking a date. Familiarizing yourself with these basic pros and cons brought about by the season can help you determine whether this time of year is right for your nuptials.
The Autumn Season's Bounty
Autumn is all about the harvest. In days of antiquity, this was the time of year when men and women would reap the crops of the summer and enjoy time spent outdoors before the chill of the winter came to call. Though the times have changed, people still look to this season as the perfect time to take advantage of the harvest. This can easily be applied to your own search for vendors, especially when you consider all of the exciting seasonal goods that are made available.
Are you someone who loves pumpkin flavoring? Does the thought of warm apple cider nourish your spirit? Then you might want to take advantage of fall favorites when you're planning a wedding in the autumn. These unique flavors are often immediately associated with the season and can help to nail home the "fall wedding" feel. What's more, many vendors might offer discounts to couples who are willing to pick foods and drinks that are in season, rather than opting for more expensive meals.
A Special Cake
Finally, the autumn can offer a lot of exciting opportunities in regard to your wedding cake. If chocolate and vanilla aren't really your favorite, then the fall can present some more creative options. In-season flavors like fig, cinnamon, ginger, pumpkin, and caramel can all transform how you feel about your cake and allow your guests the chance to snack on something truly original when the time for dessert comes around.
With earthy flavors, captivating colors, and temperate days, the autumn can be an exciting time of year to tie the knot. Still, it isn't an ideal season for everyone. Give yourself ample time to weigh all of the benefits and disadvantages of getting married in the fall and discover what is right for you and your significant other.