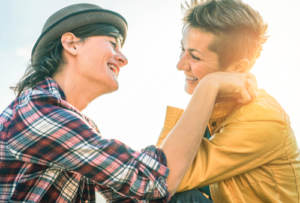 Congratulations on your engagement! Now you've got a million things to think about, including announcing it to your friends and family. With a set of artfully crafted engagement photos, you can submit announcements to your local newspaper, print save-the-date cards, and showcase your favorite pics on your wedding website and social media accounts. Following some wise advice can help ensure that you hire the right professional and get beautiful, high-quality photos that fit your aesthetics and those of your partner.
Choosing the Right Photographer
Hiring the same photographer for both your engagement session and wedding photos is a smart move. On the other hand, your engagement pictures let you try out a vendor before you book for the big day. Either way, it's a chance to work with a professional and establish a good vendor-client relationship. Of course, you should also get recommendations from other couples, read online reviews, talk to references, and meet with photographers in person to interview them and peruse their work. A Practical Wedding's Meg Keene adds that it's important to assess whether you genuinely like a photographer and ask to see a complete album of one wedding to truly judge the quality of his or her work.
For best results, you should select a photographer experienced in shooting LGBTQ couples. As industry source Mastin Labs points out, a professional should be willing to modify or depart from traditional methods and look at new approaches for capturing same-sex couples on film. Each photographer's website and portfolio should give you some clues, but it doesn't hurt to ask him or her directly. You'll not only ensure you hire a compatible professional, but you'll also weed out unsupportive vendors. Your local LGBTQ business listings or wedding websites such as Pridezillas can be good resources as well.
When Should You Schedule Your Shoot?
As The Knot's guide to engagement photos clarifies, you needn't necessarily schedule your engagement session right away. When you time your photos depends on the goals you wish to accomplish, but there are plenty of scheduling options that may work for you:
A day or two after you've gotten engaged
Within the first month, for photos to use in your newspaper announcement
Around eight months before the wedding, for your save-the-date cards and website
Three months prior, if you're planning a wedding announcement for your local paper
Up to one month before, if you want photos on your programs or wedding favors
Planning for Your Engagement Session
The quality of your engagement photos will partially depend on how much prep you do before the shoot. Your session will be a collaboration between you and your photographer, who will use your input to compose your shots. The Knot strongly recommends that you and your partner discuss it beforehand and consider key details such as where you'd like to be photographed, what you'll wear, and some ideas about the types of shots you'd like to take.
Stuck for ideas or suggestions? Ideal shot locations include picturesque outdoor landmarks or gardens, your own home, or sites significant to your relationship. When picking your wardrobe for the session, The Knot advises that solid colors are best. Also, steer clear of flashy jewelry and don't do head-to-toe black and white ensembles. Don't be afraid to wear bold hues, and taking your cues from seasonal palettes can produce vivid and inspired results.
Great Photos Require Preparation
Engagement photos let you announce your love to your family, friends, and wider communities. Achieving great pictures involves a bit of research and legwork, but you'll be rewarded with gorgeous shots that reflect your personalities and styles. Picking the right professional and engaging in advanced planning are two major keys to getting lovely photos that you'll treasure for a lifetime.