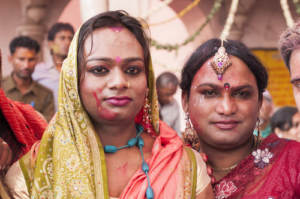 India's Supreme Court took a major leap forward for the nation on September 6, striking down a 167-year-old law that banned same-sex love. After this key victory, activists turn their sights toward other civil rights causes. Alongside key issues like improved access to health care and ending violence against their communities, the right to marry is now another chief concern. An examination of India's history as it pertains to LGBTQ activism and marriage laws helps in understanding the challenges ahead in securing a uniform guarantee of marriage equality.
The First Obstacle: Abolishing Section 377
For several decades, any concerns about the right to marry were overshadowed by the existence of Section 377 in the Indian Penal Code. Originally enacted in 1861 when the country was under British colonial rule, this law criminalized same-sex intimacy and called for fines and prison time as punishment. Much of the Indian LGBTQ community's efforts during the 20th and 21st centuries were focused on overturning the statute, often used by police and other antagonistic parties to harass people with marginalized identities into silence.
A September 10 article in Latin American media network TeleSUR documented the decades-long fight to decriminalize same-sex love. Since the early 1990s, public protests and legal petitions came from organizations such as AIDS Bhedbhav Virodhi Andolan (ABVA) and the Naz Foundation, two organizations advocating for LGBTQ civil rights and individuals affected by HIV, along with the Campaign for Lesbian Rights (CALERI). After several disappointing setbacks, the September 6 Supreme Court verdict was hailed as a victory.
The Legal Complexities Governing Marriage in India
Unlike laws in the United States that used to specifically forbid the recognition of same-sex marriages, current Indian legislation isn't quite so cut-and-dried. Part of the issue is that matrimony in India is governed not by a unified law but a collection of diverse legal codes:
The Indian Christian Marriage Act of 1872
1954's Special Marriage Act
The Hindu Marriage Act of 1955
The Parsi Marriage Act, passed in 1936
The Anand Marriage Act, legalized in 1909
The Muslim Personal Law (Shariat) Application Act of 1937
Most of these were drafted to address a specific religious or ethnic community and don't overtly outlaw same-sex pairings, but Indian authorities have traditionally interpreted them from a heteronormative viewpoint. A September 7 Times of India piece explains that same-gender couples who do marry in religious or secular ceremonies still face government clerks who usually refuse to register their unions. These obstacles also impact transgender Indians who marry, as many are still recognized as their birth genders by the Indian government.
What Will the Future Bring?
While the abolishment of Section 377 offers renewed hope and the ability to bring legal challenges against acts of discrimination, obstacles to marriage equality remain. Writing for Indian news outlet LiveMint, journalist Shaswati Das clarified that the Special Marriage Act of 1954 grants Indian nationals of any religion both inside the country and abroad the ability to marry but lacks any special provisions for same-sex couples. Further explicit legal remedies will likely be needed to extend the right to LGBTQ individuals in the country.
Even so, journalist Priti Salian detailed in a June 2018 NBC News report that LGBTQ Indians still seek long-term partnerships. While pursuing her social sciences education in India, entrepreneur Urvi Shah conceived and launched the Arranged Gay Marriage Bureau to help clients both in India and in the broader diaspora find compatible mates. While Shah has faced opposition on her own plus from some of her clients' families, she stays committed to AGMB's mission. In the meantime, queer and transgender Indians navigate a potentially shifting legal landscape and a complex collection of social norms in a post-Section 377 reality as they campaign for equality in all aspects of public and private life.