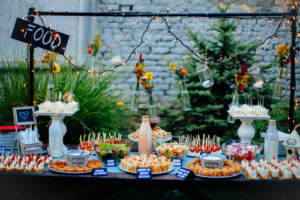 Throwing a wedding can be an expensive undertaking, especially if you want to be saving money. Whether you're looking to host a gathering with hundreds of people or you'd rather get close friends together for a more intimate affair, you're still going to need to put out a decent amount of money to see the results you'd prefer. Surprisingly, small weddings can be particularly tough to budget for. Many couples assume smaller means less expensive. Unfortunately, you are going to need to do a bit of research for this idea to hold true for your own event.
If you and your partner are planning on throwing a smaller, more intimate wedding, then you are going to need a bit of guidance. Take a look at these tips on how to save cash when hosting a small wedding and see what shortcuts and tricks you can employ for your own big day.
Trim That List
The biggest roadblock you are likely to encounter when planning your wedding is the guest list. There are many different thought processes centering on what defines a "small" guest list. According to a number of online sources, a small affair is one that hosts roughly 100 guests. While this number is definitely smaller than the guest lists for some larger weddings, you may need to get your own list to a more concise place before you can actually expect saving money during the process.
Realistically speaking, a guest list that averages somewhere between 15 and 50 people is going to be the best for saving money. This might not always be possible, especially if you and your partner have large families and lots of close friends. Still, if you can swing this lower number, then you might be able to save a significant chunk of change and use more of your budget for other areas of the planning process.
What Matters Most?
Planning for a wedding can easily be overwhelming. One minute you're trying to locate the perfect centerpieces, the next you find yourself haggling with vendors over the most sensible rates on an appetizer. In order to save some money for your own event, you are going to want to take a moment to think about what tasks matter most to you. Sure, you might feel like you have to pick floral arrangements – but do you actually want to have flowers all over the place? Often, couples go through certain motions because they're supposed to.
A great way to save a little bit of cash is by seeing which aspects of your wedding you can live without and which mean the most. The smaller the event, the easier it is going to be for you to slash specific expenses off your list. When you plan your wedding based around what you actually care about and what matters most to you, it becomes a whole lot easier to host an event that is as inexpensive as it is meaningful.
Justifying Yourself
Opting for a smaller wedding can also bring about a ton of criticism from friends and family members. When your mom or your partner's great-aunt start chiming in about why you should and shouldn't go about things in a particular way, remind these individuals (politely, of course) that this is your big day. While input is always welcome, be prepared to fight for and justify your reasons to all of the people who don't understand why you'd break with tradition.
Making the decision to throw a smaller wedding can be a great advantage to you and your significant other. The more intimate the event, the easier it will be for you to save a little bit of money and still throw a wedding that meets your specific standards.