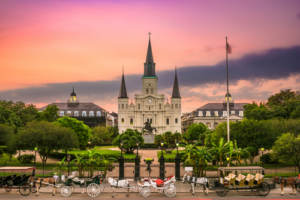 When envisioning a destination wedding, people often think of getaways to far-flung locales such as Iceland or Martinique. Even so, many magical destinations within the United States and Canada are perfect places for tying the knot. While you're trying to decide, take a look at a few popular North American destinations and a few planning tips to ensure your event goes smoothly.
New Orleans, Louisiana
Writing for the travel advice website Vacation, Lisa Kahan named the Crescent City as a top LGBTQ-friendly destination. With charming romantic scenery, delightful cuisine, and a rich local culture with plenty of nightlife options, there's no shortage of things to do. The city also offers a wide range of historical and visually stunning ceremony sites such as St. Louis Cathedral, the Degas House Museum, and New Orleans City Park.
NOLA's tourism website provides information to help couples planning to get hitched, including details on how to obtain a marriage license within Orleans Parish. Couples from outside Louisiana who marry within the jurisdiction and choose a registered Orleans Parish officiant may be able to waive the mandatory 24-hour waiting period.
Toronto, Ontario
Fodor's writer Kelsy Chauvin mentions Toronto as a top wedding destination for same-sex couples. Picturesque venues include Casa Loma, a Gothic Revival-style mansion in the city's Midtown district, and the Windsor Arms, a Yorkville neighborhood luxury hotel built in 1927. Tourism Toronto supplies a wealth of information, including a calendar of events, descriptions of popular neighborhoods, and guides to finding performing arts, nightlife, sports, and other options.
The city government's website describes the process of getting your marriage license. While there's no waiting period and couples can apply online, you'll need to submit two forms of government-issued identification plus additional documentation of any prior divorces.
Provincetown, Massachusetts
Massachusetts was one of the earliest states to legalize marriage equality, so it's no surprise that the resort city of Provincetown became a favored wedding destination. TripSavvy writer Andrew Collins reveals that it's been a top vacation spot for several decades as it offers gorgeous beaches, scenic ceremony sites, and a wide range of nightlife choices. Check out the Provincetown Chamber of Commerce's weddings guide for venue and vendor suggestions and the Provincetown Clerk's office for marriage license requirements. Keep in mind that this jurisdiction has a mandatory three-day waiting period for license applications.
Tips for Planning Your Destination Nuptials
Those were just a few suggestions, but there are a huge variety of other LGBTQ-friendly cities that are ideal for your destination wedding. In the meantime, The Knot discusses some helpful hints that can aid in your planning. Pick a location that reflects your shared interests and with something to offer for both of you, but you should also research to confirm that it's welcoming to LGBTQ individuals. Check out pricing and availability for both in-season and off-peak dates, but remember to consider the weather when making plans. You'll need to let your wedding party know up front about your plans and send save-the-date cards at least eight months in advance. Hiring a wedding planner local to the area and taking at least one trip to your desired destination can help avoid unpleasant surprises. Finally, don't forget to budget for travel and lodging for yourself, your family, and possibly your vendors, and research marriage license requirements before booking any venues or travel arrangements.
Destination weddings offer several advantages, allowing couples to combine their nuptials and honeymoon in one trip while potentially saving money and minimizing family drama. Each locale has its unique charms, especially uncommon or historical destinations. To guarantee your event's success, be sure to adequately research, plan, and budget for your romantic getaway.