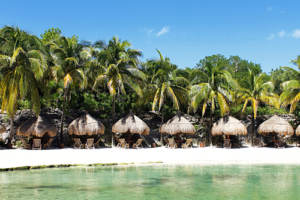 Getting married can cost a small fortune. No matter how big or small your event might be, a wedding can easily take a toll on your bank account. With so many different services to pay for, you and your partner might not even have time to think about your honeymoon. Though it might be a whole different beast to tackle in terms of finances, there are ways to go about finding the right honeymoon for your wallet. One idea worth your time: the all-inclusive honeymoon package!
The all-inclusive package may be exactly what you and your partner have been looking for. These deals usually offer some amazing opportunities to save money and get more out of your experience. Explore these tips and see if this type of package is worth it for your needs.
All-Inclusive Honeymoons Can Save You Money
One of the main reasons people consider the all-inclusive deal for their honeymoon is because it offers the opportunity for couples to save money. You're going to be spending a lot on your wedding, and you most likely don't want to come out of the experience more broke than you were beforehand. Instead of foregoing a honeymoon altogether, an inclusive package helps you to get the most out of your trip without having to spend a ton of money along the way.
Before you sign up for any packages, make sure that you read over all the details. Some offers sound too good to be true for a reason. Before you purchase any packages, look over the breakdown of costs and see if you are really saving money by going the all-inclusive route. Also check on the costs of a flight to your destination. Airfare is not generally part of the all-inclusive deal, so make sure you can afford the flight before you purchase any packages.
Wallet Lockdown
The beauty of an all-inclusive package is that you do not need to worry about the hidden costs associated with taking a vacation. Normally, you need to pull out your wallet each time you ask an employee to do anything. Everything from ordering a meal to requesting an extra towel can come with hidden costs. Luckily, the beauty behind the all-inclusive package is you are not going to get hit with any of these surprise costs.
While it can be nice to know you can forget about your wallet while you're enjoying your honeymoon, it can be even more exciting to learn about the perks of your all-inclusive package. More often than not, these packages offer exciting deals on activities you might not have otherwise considered. This is a fun way to get more out of your honeymoon and ensure you and your partner are taking advantage of all the fun possibilities surrounding you at your destination.
The Need To Explore
There are a lot of perks that go along with selecting an all-inclusive plan for your honeymoon. Of course, there are also a few drawbacks. When you and your partner opt for a package that includes a number of activities centered around your resort, it can make you feel less inclined to explore the destination you selected for your honeymoon. No matter how sweet the deal, take the time to get out of the hotel or resort and actually give yourself a chance to experience the local sights and sounds of the place in which you're vacationing.
Though it can be costly to throw a wedding, you shouldn't give up on the idea of having a honeymoon. Exploring all-inclusive packages for your trip might be a great way to save money and get the most from your experience. Take a look at your options, weigh out the costs, and see what you can do to make your honeymoon memorable and inexpensive.