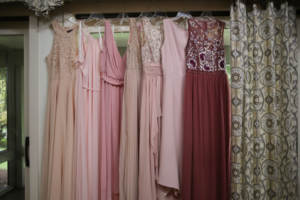 Picture a group of wedding attendants, and you may imagine a collective of friends and family members all dressed exactly alike in the same colors. Although matching wedding party attire has been a staple of the past, there are plenty of newer approaches that play with color and produce looks that complement rather than match each other. If you're looking for unique ideas for dressing up your besties for your semi-formal or informal wedding, read on.
Wedding Colors and Your Attendants
One tip for dressing your party is to draw inspiration from your wedding's colors and theme. While you needn't stress yourself out trying to match the exact shade of blue that's on your flowers, choosing their apparel according to your color scheme will help create a cohesive look for your event. If you want to visually design your celebration and you haven't already made your color selections, Wedding Wire's Samantha Iacia provides a little helpful guidance:
Pick one base color with a few accents.
Keep your venue's look and your event theme in mind.
Stick to colors that flatter your skin tone.
You can try looking to the season for inspiration. Pastels are great for spring affairs, bright colors shine at summer nuptials, and deeper shades and jewel tones fit right in at fall and winter celebrations. At the same time, The Knot's Simone Hill explains that you can simply focus on colors you already love and adapt them for the season.
Picking Your Palettes
Taking cues from your event's colors for your wedding party's attire is a smart idea, but you needn't put them all in the exact same shade. Darcy Miller of Martha Stewart Weddings highlights some modern trends, such as complementary color palettes or monochromatic ones with several different shades of the same base hue. For either method, pairing warm and cool colors adds some contrast and visual interest and allows each attendant to choose a flattering look.
Meanwhile, Simone Hill also clarifies in her article for The Knot that some shades you pick for your venue's décor may not translate well to apparel. In those cases, you can put your wedding party in neutral-colored attire and add your theme colors in details such as shoes, hair accessories, ties, pocket squares, or socks.
Balance Cohesiveness With Individuality
Setting a range of colors for your wedding attendants already gives them options, but you can take this a step further while still creating a uniform appearance. For the dress wearers in your party, you can allow them free rein to choose whatever fabrics, necklines, and silhouettes they like. You can also adopt a similar fun approach for your suit-wearing friends, as Brides writer Kelsey Butler reveals. Similarly, you can pick a color palette and tell them to select their own suit styles. Inject even more variety by letting them choose between vests, suit coats, or suspenders while wearing the same basic type of trousers.
Another side benefit to the mismatched attire trend is that it also helps attendants potentially use items already in their closets or select pieces they can wear again. Whatever you decide to do, select one or two uniform elements to tie your party's look together. It's easier to do this with a monochromatic scheme, but you can ensure cohesiveness with a multicolor palette by choosing matching accessories such as ties, shoes, or belts.
Walking Down the Aisle in Style
A mismatched scheme for your wedding party's attire offers them plenty of options. Not only that, you'll give your overall event a distinctive and fashion-forward look. Multihued color palettes and a wide range of styles are a couple of takes on the trend, but you can still achieve a unified appearance that sets your attendants apart.