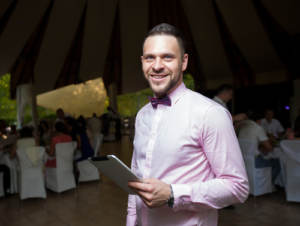 When you're planning for your wedding, there are a lot of decisions you're going to have to make. While it might not be the most pressing concern on your plate at the moment, thinking about your entertainment can be very important. You may find yourself debating between a DJ and a band, but there is more to entertainment than the people who control the music. You also need to determine whether you'd like to have an emcee at your event. Deciding this early can help you find the perfect fit for your needs.
You don't want to accept any old emcee for the job. Sure, this might not be the most important decision for the event, but going about it in the right fashion can definitely make a difference. Look over these tips on how to find the right emcee, and discover how to select the best person for the job.
Organization Is Crucial
Interviewing a few different candidates for the job is a great way to go about the process. You want to make sure your potential emcees know how to work the crowd, engage people, and keep the night moving in the right direction without delay. Of course, you also should take time to learn about whether or not your candidates are organized. It might not seem like the most vital trait, but organization is incredibly important when it comes to any vendor you think about using.
An emcee who lacks basic organizational skills might not be able to keep all of his or her facts straight. This means your emcee could announce it is time for a slow dance when, in reality, the DJ is about to spin some fast, exciting dance tunes. You are more likely to feel confident in the abilities of your emcee when you discover he or she is on top of things.
A Winning Personality
Outside of basic organizational skills, you also may find it is a good idea to meet with your potential emcee in person. The main job of this individual is to keep the crowd engaged and informed, meaning you want the person with the microphone to be personable. Someone who slurs, mumbles, or has a weird attitude can easily derail the evening and make your guests feel somewhat uncomfortable. Meeting with potential emcees can help you get a real feel for what his or her personality is like.
If you feel like you're not a good judge of character when it comes to working a crowd, there are a few ways to prepare yourself for the interview. Go on YouTube and look up examples of emcees and hosts working various events. Watching how they take care of the crowd at award shows, for example, can help you get a general idea of how your emcee should be handling the job at your wedding. The more homework you do, the easier it will be to find a great match while interviewing candidates.
Humor Is Subjective
Finally, it is a good idea to make sure your potential emcee's sense of humor is a good fit for your crowd. Emcees normally try to keep their personalities upbeat and jovial. Still, there are times when a joke doesn't land. Be sure the person you pick isn't going to offend or confuse your guests, and you should be on your way to making a sensible decision for your event.
Selecting the right emcee might not be the most important decision you'll need to make while preparing for your wedding, but it is still a good idea to think over how to make the best selection. Take your time and be sure to meet with potential candidates in advance to find the best fit.