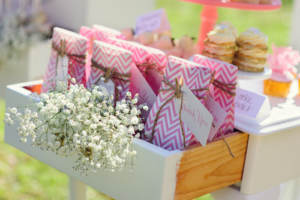 A Wedding shower is an excellent way to get people excited about an upcoming union. They're meant to bring together some of the most important people to the couple and give everyone the opportunity to cut loose and have some fun. Traditionally, the couple does not take care of this aspect of planning for a wedding. Most often, a close friend or family member will take on the responsibilities of bringing this event to life. If that person is you, then you might need a bit of help.
If you've never thrown a shower before, you may not know how to get started. Before you begin, take a moment to look over a few of these tips and find the ideal way to throw a shower for the happy bride or groom (or both!) to be.
Setting the Shower Date
One of the first challenges you're going to face while planning this type of event is selecting the perfect date. More often than not, the shower is held somewhere between two months before and two weeks before the actual wedding. While you can feel free to host the event whenever you wish, custom dictates that starting too early or too late can interfere with planning for the wedding itself. Because of this, you should try to leave a bit of room.
Many couples prefer for showers to be held earlier rather than later. This is because a shower that lands too close to the wedding date can be frustrating. With so much left to plan, most couples would rather be able to focus their attentions on the tasks at hand rather than losing momentum. Unless the shower is a surprise, you definitely want to have a conversation or two about what dates will work best before setting anything in stone.
Picking the Right Location
Another common problem people run into when planning a shower is selecting the right venue. Once upon a time, it was expected that this type of party would be held at the home of the host. While this is still somewhat commonplace, using a separate venue has become much more appealing for many. Though it can cost a little bit more to use a venue, there are a handful of perks that go along with holding this event away from your household.
Selecting a venue allows you a bit more room for guests, especially if your home doesn't have ample space. You also may not live in a centralized location for most guests, which can make travel difficult. Using a venue that is easy for most guests to get to helps you ensure everyone invited has an easy time finding the place and arriving in a timely fashion. If the event is a surprise, you definitely want to make sure the venue is one that will be easy for the guest of honor to find without giving away the entire surprise.
Games and Entertainment
It can also be a good idea to plan some activities for the shower. A large portion of the event will center around giving the bride gifts, chatting with other guests, and snacking on a light meal. Still, having games and other activities planned is a great way to make sure the event keeps moving without any awkward lulls. Of course, you should also plan to forego activities altogether in the event that the guest of honor isn't the type of person who likes to indulge in games.
Throwing a wedding shower can be a lovely way to bring people together to celebrate an approaching union. In order to make sure you're covering all of your bases, be sure to get started on planning the event early and remember to consider important factors like the date, venue, and activities.