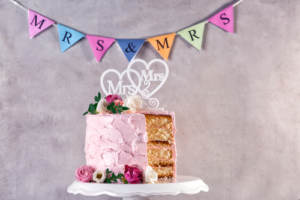 Wedding etiquette guidelines and customs were initially created with heterosexual couples in mind. While it logically follows that same-sex couples abandon some of these practices, the internet is still awash in articles about same-sex wedding "trends." Despite the headlines, it's important to understand that LGBTQ couples often create their nuptial celebrations with some traditional elements while customizing others to reflect their values and relationships.
How Marriage Equality Impacted LGBTQ Nuptials
Marriage equality has certainly changed the wedding industry as well as how couples plan their celebrations. In a March 2018 article in Wedding Wire EDU, writer Emilie Smith discussed several characteristics of LGBTQ weddings before 2013:
Older couples tying the knot
Smaller celebrations with shorter guest lists
Eloping to marry in states where it was legal
Nontraditional and customized ceremonies
Martha Stewart Weddings quotes findings from a Gay Weddings Institute survey revealing that most LGBTQ couples pay for their own weddings. However, Smith revealed that more families are getting involved and either help defray some of the expenses or completely pay for these events. Guest lists and wedding party sizes are also increasing, while the average age of LGBTQ newlyweds has dropped from 50 to 34 since 2013. 
Customized Celebrations Are the New Norm
Queer and transgender couples have defined their own rituals and milestones even well before the landmark 2015 Supreme Court decision. For instance, A Practical Wedding's Meg Keene clarifies that wedding invitation wording reflects whoever's hosting the celebration while personalizing the order of the couple's names and other language. Processionals and seating arrangements can also diverge from typical traditions, as a September 2015 Brides article points out. Many couples opt to enter together or process down separate aisles and meet at the altar. Labels for wedding attendants' roles are also diverse, but it's typical to see the major players referred to as "honor attendants" or other titles such as "best woman" or "man of honor."
At the same time, the choices of queer and trans couples could be impacting heterosexual cisgender pairs to follow suit in their nuptials. Emilie Smith commented in her Wedding Wire EDU piece that fewer straight couples are diving their wedding parties strictly by gender. Wedding Wire's Anne Chertoff divulges that those under 35 also take alternative approaches to details such as attire, entertainment, and ceremonial music.
Smart Guidelines for Wedding Guests
Psychotherapist and author Mark O'Connell revealed in a November 2017 Huffington Post piece that he's received many questions from both journalists and heterosexual individuals about proper same-sex wedding etiquette since penning his 2014 book "Modern Brides & Modern Grooms: A Guide to Planning Straight, Gay, and Other Nontraditional, Twenty-First Century Weddings." While expressing his bemusement at some of these queries, O'Connell shared an observation from freelance journalist Alexandra E. Petri that many long-standing rules and customs are explicitly spelled out and focus heavily on the bride.
O'Connell also acknowledged that people often ask these questions because they need guidelines from which to mold their words and actions. Nevertheless, he warns that we can become trapped by traditions, especially when navigating new social territory. Meanwhile, he suggests that friends and family should approach the nearlyweds with their questions while considering their individuality, free will, and creative license.
Looking to 2019 and Beyond
Whether retooling existing wedding customs or replacing them with their own meaningful versions, LGBTQ couples have paved the way by breaking from tradition and defining what once was a purely heterosexual institution on their own terms. With both queer and trans pairs and soon-to-be-wed straight cisgender couples eyeing new approaches to old customs, these tendencies show no signs of stopping anytime soon. Ultimately, it's up to each couple to define both their celebrations and their relationships.