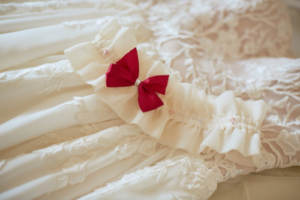 Many brides spend a lot of time obsessing over the details of their wedding-day looks. From selecting the right dress to finding a hairstylist who can deliver a fantasy do, a bride puts a lot into her appearance because it is a rare chance to go above and beyond. In the past, it was common for the bride to wait to reveal her wedding-day look. A lot of this was due to superstition, as it was once considered bad luck for the bride to be seen in her dress before the ceremony. Nowadays, customs have changed slightly.
It is far more common these days for nearlyweds to see one another in their wedding outfits before walking down the aisle. Still, there are many brides (and some grooms!) who want a "reveal." Customarily, this unveiling, to pardon the pun, takes place the moment the bride or couple enters the room and appears before the guests. If you're debating whether or not a reveal is a good idea for you, consider a few of these points.
Photo Opportunity
Even though you might have professionals nearby at your wedding to touch up your makeup when tears start to flow, you are going to look your absolute best in the hours immediately after getting yourself ready. Because of this, many couples have started scheduling their wedding photographs for before their ceremonies. While this can definitely be a great way to get the best pictures, it also means you have to ditch the idea of the reveal. You and your future partner will have to be together earlier than usual, which may take the mystique out of the ceremony.
Of course, doing photographs early may not also be the best decision. Sure, you'll look fantastic, but you will definitely need to get up earlier to make it happen. Since your wedding day is bound to be a long one, you may find it best to get all the sleep you can. No one wants to start falling asleep on the dance floor at his or her own wedding after all.
Getting It Out of the Way
Are you someone who is very prone to emotional moments? Walking down the aisle can be overwhelming because you're in front of all the people who matter most to you, about to start your life with the person you love. It stands to reason you may start to cry as you approach the altar. If this moment is also the reveal of your look to your future spouse, seeing his or her reaction might also send you into a more emotional state. While tears at a wedding are expected, you probably need a degree of composure during the ceremony.
By opting to do photos or an early reveal to your partner, you're giving yourself a great opportunity to get some of the bigger emotional outbursts out of the way. You may still well up during the ceremony, though it's likely you'll have an easier time keeping your mascara from running if you had a chance to show off your look already.
Talking It Out
Remember this isn't a decision you need to make alone. Before committing to the idea of a reveal or not, talk to your significant other. By discussing both of your feelings about the idea, you may discover the answer is far more obvious than you had initially thought. Having an early reveal may be more appealing to both of you because it gives you a chance to shake off any nerves you might have before having to get up in front of your guests.
Revealing your wedding-day look to your significant other and all of your guests can be a big moment. Weigh out the pros and cons, speak with your partner, and see what will help make the day the most memorable to you.