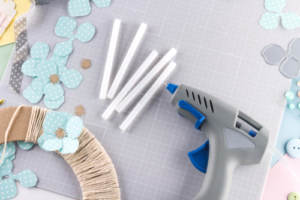 Thinking of a DIY approach to your wedding décor? You may be inspired to handpick all the details so that your event's look is truly unique, or you could have more practical reasons such as a limited budget or an inability to find decorations that you love. While planning such an emotionally significant event, it's easy to succumb to the temptations of buying more than you need, spending too much, or committing to more projects than you can handle. How do you avoid these pitfalls? Some sound advice can prove to be helpful.
Perform a Cost-Benefit Analysis
Blogging for Bridal Guide, Rachel Holmberg makes a few useful suggestions to couples considering DIY plans for their weddings. She stresses that it's important to honestly assess your limits and avoid going overboard with décor projects. Such an assessment should factor in how much time and money will be required for crafting each item, but you should also overestimate both figures to allow some room for mistakes and buying extra supplies. As A Practical Wedding's Natalie Schack clarifies, this cost-benefit analysis can provide the information you need to make sound decisions. Schack also recommends limiting the number of projects you take on and enlisting help from your inner circle.
Consider Low-Effort DIY Décor Solutions
With the right strategy, you can enhance your venue's look with a few key details without breaking the bank. The Spruce contributor Tonya Lee offers several recommendations for DIY décor on a budget. For instance, simple and rustic floral or greenery arrangements or strings of lights wrapped around or draped over key areas can look stunning while not requiring much effort. The Knot also shares some additional suggestions for low-effort décor:
Yards of fabric strategically draped from the ceiling
Fabric patterned pillows
Hanging floral bouquets
Elegant table lamps that double as centerpieces
Fresh herb leaves for fragrant decorative touches
Patterned table runners with small floral arrangements in bud vases
Colored glassware
Hanging paper lanterns
Candelabras with tall tapers
Stretch Your Dollar With Low-Cost Supplies
Whether you choose simple or intricate décor, your next quest is to go shopping and find your supplies. Wedding Wire's Stephanie Weers lists several vendors that may carry the goods you require to help make your venues come to life. Craft stores are usually on everyone's go-to lists, along with dollar marts, hardware stores, and major online marketplaces. She also mentions secondhand décor swap websites such as Wedding Recycle or Tradesy, but adds that Craigslist is ideal if you'd prefer to source your supplies locally.
Weers also divulges that flea markets can be a great source of low-cost fabulous finds, especially if your event's theme includes eclectic, rustic, or industrial elements. If a day trip to a local market appeals to you, these tips from Martha Stewart Weddings's flea market shopping guide may come in handy:
Make a list before you go.
Arrive early to increase your chances of getting good merchandise.
Wear comfy shoes and pack weather-appropriate gear.
Carry cash with you. Markets may not have credit card machines, or you'll pay exorbitant fees at third-party ATMs.
Don't forget to ask about any additional inventory that's not on display.
Bring cards with your contact information so that prospective vendors can get in touch with you later.
Be Prepared and Plan Smart
When deciding what décor to DIY for your wedding, you should remember a few important things. First, your budget and the amount of time you have available must guide your decision-making. Next, it's vital to use discretion when choosing projects, steering clear of anything that's best done by professionals or is elaborate and time-consuming. Finally, strategic planning and shopping are your friends when you're gearing up for your crafting endeavors.