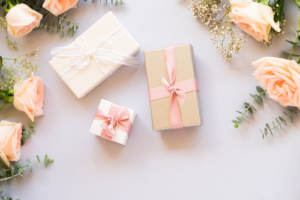 With so many things on your wedding planning to-do lists, setting up a wedding gift registry may feel like a Herculean task. You may be unsure about whether you even need a registry, where to start one, or even what items to include. These questions are particularly salient for those who've lived on their own for some time or have established households with their future spouses. If this sounds like your situation, take heart. Navigating the wedding registry question could be much easier than you think.
To Register or Not To Register?
Some couples question whether they need wedding registries in the first place. Writing for A Practical Wedding, Liz Moorehead explains that gift registries are not a requirement for soon-to-be-wed pairs. At the same time, she also reveals that not setting up a registry could result in two likely outcomes: receiving cash gifts or unique wedding presents. Since immediate family and wedding attendants usually spread the word about gift preferences to guests, you'll want to enlist their help if you don't register anywhere.
On the other hand, Brides writer Heather Lee makes a case for establishing a registry even if you already have enough household items. A registry can reduce the likelihood you'll get unwanted gifts, saving you the hassle of returning them to their original merchants. Lee suggests that you opt to include upgraded or specialty household tools and appliances, extras such as additional linens or towel sets, or fun items such as board games or cookbooks. Keep in mind other possibilities, including digital cash and travel registries like HoneyFund or NewlyWish. Creating both standard and nontraditional registries is a smart move, since this will present multiple options to your guests.
Tips for a Great Registry Experience
Equally Wed contributor Kirsten Ott mentions that traditional approaches to building a registry can translate into tedium for some nearlyweds. Cataloging what you already own and determining what you need is one thing, but your lists of desired items can also become rather lengthy if you're not careful. Using more than a couple of merchants may also get confusing and onerous, especially with the time and effort required to manage multiple registries.
How do you deal with the wide range of possibilities and narrow down to what works best for you and your mate? Using discretion is the key to picking the perfect places and pieces. Martha Stewart Weddings recommends some best practices for building your registry:
Choose a maximum of two or three vendors. You may best benefit from selecting one department store and one specialty retailer.
Select stores in low, medium, and high price ranges.
Set up your registries around four to six months before the big day.
Consider items that fulfill both your current and future needs.
Fine-tune your shipping preferences according to your future plans. Some allow you to choose bulk shipments, while others permit you to defer delivery until a later date.
Meanwhile, Equally Wed's Kirsten Ott recommends all-inclusive vendors such as Zola, a popular website that offers both virtual registries and planning tools. These providers allow you to add items from multiple retailers to your registry, and a few like Zola also let you add both physical items and set up cash gift options. However, you may want to consider how to accommodate friends and family who'd prefer to purchase items from a brick-and-mortar store.
Let Them Shower You With Love
Depending on your outlook and lifestyle, starting a wedding registry may feel like an exciting next step or a major pain in the neck. Wedding registries do offer several unique benefits, so a smart approach that maximizes convenience and provides a large range of options can lead to optimal outcomes.