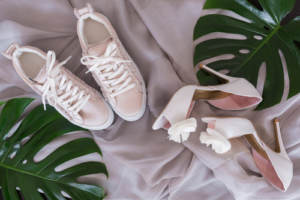 You probably have received a lot of advice from people about your upcoming wedding. While friends and family members might tell you to try and enjoy your big day as much as possible, they probably aren't offering too many solutions on how to make this happen. Staying present and in the moment can be very helpful, but you also want to try and stay as comfortable as possible. This can be difficult, especially when you don't take the time to prepare in advance.
Though it might seem like an easy task, it actually can be a bit more difficult than you might imagine to keep yourself nice and comfortable on the day of your wedding. Take a look at these tips, and see how you can increase your odds of feeling comfy when you tie the knot.
Don't Change a Thing With Your Appearance
Drastic changes to your appearance can be an easy way to feel uncomfortable in your own skin on the day of your wedding. Often, a bride or groom will feel like this event is an ideal time to try out a brand new look. While it might seem like an appealing idea, the reality can easily be far less pleasant than you'd prefer. A bad haircut or a microdermabrasion facial can make you feel self-conscious, something that will definitely make you uncomfortable on your wedding day.
Instead of aiming for something new, it is far better for your own sanity to explore measures that will provide the comfort you need to get through your wedding day. What you wear under your outfit, for example, will make or break how you feel. Don't go for any undergarments that might be too clingy or restricting, as you don't want to feel like you're spending the whole night pulling at your pants. Feeling comfortable under your clothing can help you focus and actually enjoy your big day a bit.
Shoes: the Key to Keeping Comfortable
Most people know shoes complete a look. In fact, countless couples spend endless hours agonizing over what shoes they will wear for their wedding. While you may be looking for the most stylish kicks to match your look, you also need to take a moment to think about the reality of the event. No matter how comfortable they might feel, most dress and heeled shoes tend to cause a bit of pain after hours of dancing. Since you'll most likely be dancing a lot at your reception, you want to make sure you have the right footwear.
This doesn't mean you have to ditch whatever shoes you were planning on wearing. All you need to do is take time to bring a second pair with you. Sneakers are preferable, as they breathe and are far more supportive for dancing. You may even be able to find sneakers that effortlessly blend with your outfit, helping you to avoid the frustration of having your footwear stand out when you make the switch from one pair to the other.
Remember to Breathe
The night of your wedding is going to go by pretty fast. With so many different guests to greet, dancing to do, and photos to take, you may find yourself getting sucked into a whirlwind that never seems to end. To stop yourself from getting lost in the motion and feeling like a stranger at your own event, remember to take a moment to catch your breath. Heading outdoors for a little bit of air, with or without your new spouse, can be a fantastic way to recalibrate, feel comfortable, and jump back into the fray.
Comfort is incredibly important on your wedding day. Remember to think about this factor in advance, and you should have no problem feeling pleasant and agreeable when your big day finally arrives.