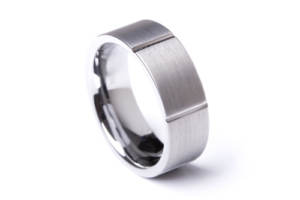 Rings have long been associated with weddings. The simple bands around the fingers of the happy couple symbolize the infinite nature of love and the long, unified journey the two face in married life. Despite how important these small pieces of jewelry are, many people experience a good amount of difficulty when it comes to selecting the ideal ring. The biggest trouble couples face tends to be picking out a band that is perfect for the groom. While it might be challenging, it is far from impossible to discover the right ring.
Whether you're a clueless groom yourself or you're looking for a good fit for your partner, this simplified guide is designed to help you along your way. Look over this information and see how you can find a wedding band that works for you.
Basic Concerns
Not all men enjoy wearing jewelry. It might not seem like a big deal for the most part, but it can be a huge headache when the time comes to select a wedding band. When you never spend much time wearing jewelry, you may not know a few basic details. For one, you might not have the first idea about what your ring size is. The width of your finger dictates the size of the band you select, which means you need to have a good idea about your ring size before you can make your purchase.
Luckily, this information is relatively easy to figure out. All you need to do is go to a jeweler and try on a few different options. The professional who assists you will be able to figure out what size makes the most sense for your finger, and you can play around with options slightly bigger and smaller to see what fit is most comfortable for you. It stands to reason you'll be wearing this ring throughout your life, so you definitely want it to fit in a comfortable and appealing way.
Style Matters
After figuring out the basic details, you're ready to start exploring the world of style. Men's rings are not drastically different from women's bands, but there are a few key traits that separate these pieces of jewelry when it comes to style. If you want a classic metal ring, then you may want to look at options that come in gold, platinum, or palladium. These metals are durable and aesthetically pleasant, and most can be worn with almost any type of outfit.
If you're not into the look of metal, there are finishes that can make your ring look like wood or other textured materials. The finish on your ring can do wonders for how the final product appears, so be sure to discuss all your options with a jeweler when making your selection. From polished to matte to hammered, the finishes will take your simple band and transform it into a piece you can't wait to slip on for the rest of your life.
Customized Aspect
The last step to consider for your ring is personalization. Many couples find engraved messages appealing. Discuss this with your partner and see if there is a simple and sentimental phrase you can both have etched into your rings. You may also want to consider other customization options like adding jewels, gems, or other elements to the finish. It's your ring, so feel free to explore whatever features seem the most exciting to your sensibilities.
Selecting the perfect ring for a groom might be a bit tricky, but there are plenty of ways to make the right decision for your big day. Get to a jeweler and see what you need to do to get the process of selecting the ideal wedding band started.