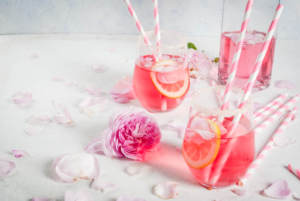 Alcohol has always been a staple at wedding receptions, but signature cocktails are now more popular than ever before. Couples from nearly all walks of life are indulging in the trend, pondering a wide range of possibilities to pick their perfect drinks. Whether you're devoted to doing the same or you're intrigued but unsure if it's right for your affair, you'll want to consider a few details before you and your sweetie take the plunge.
Know Your Numbers
Your guest list and budget are two important factors that should drive what drinks you select and how much you spend. Zola Unveiled writer Audra Jones reveals that average open bar costs for a four-hour wedding with 200 guests price out at around $8,000. A Practical Wedding's Dana Eastland provides several suggestions for determining the amount of alcohol you need as well as what you should buy.
Headache-Free Signature Drinks
For those wanting a signature cocktail along with standard bar offerings, Eastland's suggested modified full bar setup may be their best bet. Zola's Audra Jones adds that serving one or two signature drinks instead of a full bar can even save you money.
If you opt to go this route, The Knot recommends some big-batch cocktails that are both easy to mix and affordable. Most of these featured offerings use simple recipes and common cocktail ingredients. Drinks such as Lemon Drop Champagne Punch and Fresh Watermelon Mojitos contain ingredients from the Eastland's recommended modified bar setup. You may only need to purchase an extra ingredient or two to pull off your unique choice.
Catering to Your Crowd
At the same time, Dana Eastland reminds readers to tailor their reception bar offerings to their guests' tastes. If your crowd mostly consists of beer drinkers, for example, try choosing cocktails that fall into similar flavor families. Meanwhile, be sure to take regional preferences into account with your selections.
In a June 2018 piece for Delish, wedding planner Kelsey Timberlake points out that the wrong cocktail choices may result in drinks going to waste. Since your friends and family want to simply order drinks, eat, and socialize, they won't want to figure out what's in a complicated or uncommon signature cocktail. Timberlake recommends sticking to classic staples that will go over well with most of your guest list.
Signature Cocktail Pitfalls To Avoid
Kelsey Timberlake dishes out some vital advice to help couples get the most bang for their bucks while serving enjoyable cocktails. She warns against relying too much on Pinterest, since many trendy items exist in carefully stylized photo shoots. Moreover, she provides several other key suggestions:
Don't choose a drink if you don't understand its personal significance.
If your guests won't understand a drink's relevance, choose something else.
Guests don't want to guess at a drink's ingredients, so avoid renaming or rebranding classic cocktails.
Find out the cost of your signature drinks before finalizing your choices.
Overall, Timberlake urges engaged couples to analyze the costs and benefits of a signature drink. After the wedding is over, your guests may not imbibe or even remember your selected cocktail. Ultimately, focusing on their enjoyment should take priority as you plan.
Choose Your Drink Menu Wisely
Your wedding can signify more than just the loving commitment between you and your partner. It can also reflect your values, aesthetics, and preferences. When choosing key aspects such as your reception's food and drink, you may wish to put a unique spin on these offerings. Signature cocktails are a popular way to jazz up the menu, but it's important to consider several factors while mulling your options. Consider your guests' tastes, along with the feasibility of serving your signature drinks and their impact on your wedding budget.