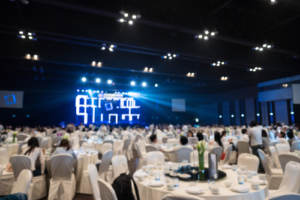 There's a lot to be said for having a big family. When you have a lot of close relatives, it means there are countless people looking after you and helping you grow. Of course, larger families can also bring about a slew of issues. Hosting big events like weddings, for example, means you always need to account for a ton of people. If you're currently planning for your wedding and have a big family to contend with, you may need a little bit of assistance figuring out the best course of action.
When you, your partner, or both come from large families, you need to make a bit of extra effort to put together your wedding. Explore these tips on planning for an event with a big guest list, and see how you can make your life a bit easier.
You Need a Large Venue
There are some issues that are going to seem a bit more obvious than others when it comes to making sense of your guest list. One of the biggest problems is space. When you have 200+ people you'll be sending invitations to, it stands to reason your options for venues are going to be a bit more limited. While it isn't impossible to fit all of these people in one place, you are going to need to limit your search to venues big enough to comfortably fit all of the people projected to attend.
If you're planning on tying the knot in the spring or summer, then you might be able to host an outdoor wedding and easily fit everyone on your guest list. Outdoor events tend to offer a bit more leeway than indoor options, so definitely consider this for the sake of space. A fall or winter wedding should usually be held indoors, but remember having all of those people in one location might make the space a bit hot. Take this into consideration and plan accordingly to keep the area comfortable for everyone present.
Who's Even Here?
While fitting everyone in the venue is a primary concern, you also need to think about how you plan on interacting with all your guests. Ask most married couples, and they'll tell you it can be very difficult to make time for each and every guest who comes to celebrate the big day. When you're looking at several hundred guests, talking to everyone can seem outright impossible. Still, you need to try your hardest to make time for as many of your guests as possible.
A safe way to make time for everyone is by planning ahead. Draw out your venue on a piece of paper and make note of all the tables. During the event, go to each table at least once and try to chat with everyone. Once you've finished with a table, check it off your chart and move on to the next. You may not get everyone, but some premeditated planning can easily help you cover as many bases as possible.
Keeping People Active Helps
Finally, it can be a good idea to keep your wedding active when you have a lot of guests. Try to break up the itinerary of the night to include as much dancing as possible. This allows you time to mingle, and it gives your guests a chance to get up, move around, and enjoy the evening. When the event stays active, it is easier to keep the guests from getting restless.
While it can be a blessing to come from a large family, there are plenty of downsides when the day of your wedding rolls around. As long as you give yourself ample time, it should be easy for you and your partner to plan a wedding that comfortably fits everyone you care about.