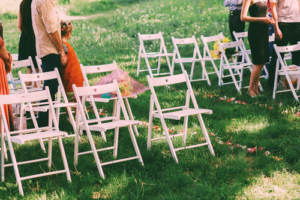 While The Knot's 2017 LBGTQ Weddings study reveals that queer and transgender couples tend to spend less than their straight cisgender counterparts, their average nuptials still price out between $17,000 and $18,000. Keeping expenses manageable is a primary goal, no matter how grand of a celebration you're planning. A look at factors influencing wedding expense trends can prove to be enlightening, but planning a budget-friendly event begins with the guest list. If money's on your mind as you tie the knot, pay attention to sound strategies for narrowing down your numbers.
A Quick Look at Figures and Trends
Over the last several years, average guest list sizes for LGBTQ weddings have increased significantly. Wedding Wire EDU writer Emilie Smith attributes this trend to the legalization of marriage equality as well as more couples coming out and including attendees from their broad social circles. According to Smith, average guest lists have grown since 2013, increasing from 65 to 107. The Knot Pro disclosed an average cost of $268 per guest, but that's higher than the mean of almost $170 per guest paid by queer and transgender couples.
It's unclear exactly why LGBTQ couples host less expensive weddings, but Intuit Turbo hints at some possible factors that may be at work. Many nearlyweds are either footing the bill themselves or splitting expenses with supportive family members who are willing to chip in. Wedding Wire EDU's Emilie Smith also explains that their mean age has dropped, decreasing to 34 years old in 2017. With many adults from their early 20s to mid-30s facing lower wages, less promising job prospects, and higher student loan debt, the search for bargains easily extends to their wedding planning. Moreover, lower event price tags may also result from LGBTQ couples either modifying some long-standing nuptial traditions or dispensing with them altogether.
Smart Guest List Strategies
Your wedding's guest count will partially drive its budget, so it's a good idea to scrutinize the size of your list. Depending on who's footing the bill, you may feel obligated to include people to whom you don't particularly feel close or haven't spoken in years. To make things simpler, The Knot suggests a "tiers of priority" approach to building your list, starting with the most critical people and working down to casual acquaintances:
Immediate family
Your wedding party
Best friends
Closest extended family
Neighbors and coworkers
Should you find yourself pressed for funds or space, The Knot's writers recommend removing people from the bottom tiers first. For instance, a couple eyeing an initial list of 120 people could see a total bill of $20,400 based on an average cost of $170 per guest. If they ax everyone in the "neighbors and coworkers" category and their guest count drops to 85, they can expect to pay around $14,450 for their celebration.
Brides writer Jen Glantz offers additional guidance by mentioning eight groups of people you can cross off your list, such as plus-ones, unruly family members or friends, and individuals with whom you've not interacted within the last several years. Meanwhile, Intuit Turbo advises only inviting supportive people from your social circle and leaving out individuals bound to have negative opinions about your union.
Smart Money Solutions on Your Big Day
Weddings involve matters of the heart, but there's always a need to crunch the numbers and adopt a practical approach to planning. LGBTQ weddings typically feature lower guest costs and smaller budgets, but it's still important to track and rein in expenses to avoid starting your new life together with more debt. Your guest list is critical to smart budgeting, so build yours carefully and focus on including people who matter to you the most.