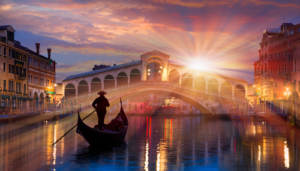 As you plan your upcoming wedding, you most likely are not thinking about romance. Sure, the general idea of marriage begins with feelings of love and excitement. But preparations for tying the knot may turn into a more practical, utilitarian experience. You need to organize guest lists, find vendors, and figure out what tunes will get people dancing, which can make you forget the whole purpose of the event. Luckily, your honeymoon is the perfect chance to sink into amorous feelings with your partner and let other responsibilities fade away.
If you're feeling stuck for honeymoon ideas, it can be helpful to select a destination based on how romantic it is. To help you along your way, here are a handful of popular destinations to consider.
The Obvious Choices
Some locations are known for being idyllic for lovers. Paris, for example, is high on the list of destinations when you're looking to fall in love all over again. From tantalizing cuisine to stunning architecture, Paris is a city that welcomes people of all backgrounds to come visit. You can opt to go the traditional route and see tourist attractions, or take the road less traveled and discover sights you might not encounter on the beaten path.
Another classic city to consider when you want to capture the romance in your relationship is Venice. This Italian city has long been a favorite destination for people all over the world. There's a good reason why so many classic films and television shows portray gondola rides as a romantic activity, after all. If riding around in a tiny boat isn't really your thing, Venice has plenty of other exciting options! Explore the history and beauty of the Basilica di San Marco or simply wander the streets and experience the unique magic of the city on your own.
Less Obvious Options
Paris and Venice are popular, which means they can also be a bit more expensive. In America, a less obvious option for honeymooning can be found in Savannah, Georgia. Located deep in the American South, Savannah is a gorgeous city rich with history and natural beauty. The slow pace of the city can be ideal for couples who are looking to relax after all of the excitement of their wedding. The art scene is also booming in Savannah, meaning you'll have no shortage of options for captivating entertainment.
Want to indulge in a bit of revelry instead? Ibiza, Spain, could very well be the city for you. People travel to Ibiza for the raucous nightlife and dazzling beaches. When you and your partner are searching for a location with a ton of varied activities, Ibiza might be for you. Indulge in the eclectic party scene or rush away to the sand located just off the shores of the city. There's definitely a little something for everyone here.
Something Completely Different
Finally, you might be looking for a honeymoon spot unlike any you've looked at before. If this is the case, why not consider Myanmar? Located in Southeast Asia, Myanmar is definitely a "path less traveled" destination. Explore the exotic natural wonders or take a tour of one of the many ancient temples that populate the nation for a truly exceptional experience.
Your honeymoon is your opportunity to relax and experience married life for the first time. Take your time and do your research to find a destination that exceeds all of your expectations and helps you truly enjoy the journey.