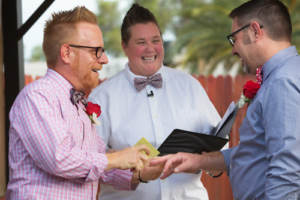 These days, it has become more and more popular for couples to ask friends and family members to be involved in their weddings in creative ways. Personalized gifts and sentimental messages are the perfect combination when you're looking to involve the people you care about in your big day. While you might already have a few ideas for how to ask your bridesmaids and groomsmen to be in the wedding party, there could be some other people you're struggling with. If you're asking a friend to officiate your wedding, you may want to ask in a fun or unique manner.
Whether you're not sure how to go about the process or you're running short on creative ideas, there are plenty of interesting options to consider. Look over these clever ways to ask your friend to perform a wedding, and discover the ideal fit for you.
In-Person Request
The simplest and most personal way to go about asking a friend or family member to become a minister for your ceremony is by getting together. While it might seem like you can shoot a text or make a quick phone call about the matter, you want to treat the request with the same level of care that you put into asking your wedding party members. Plus, you get to see the look on your friend's face when you ask him or her to assume the responsibility of performing the ceremony.
The process of becoming a wedding officiant is a relatively fast and simple one. After you "pop the question," so to speak, you might want to give your friend some information on how he or she can get started. Online ordination is the best way to become a wedding officiant. It takes almost no time and costs nothing, making it a simple and straightforward solution. Tell your friend how he or she can get ordained, and you won't need to worry about anything else to do with this until your big day arrives.
A Token of Appreciation
Asking someone to marry you can be a big deal, and there are many interesting ideas to consider. You can go a sentimental direction and write a personalized letter detailing why you want this person to get ordained and officiate your event. You can even go in a silly direction and ask the question by tying a message to your dog while having your friend over for drinks. In order to show your appreciation, you may want to ask the question with a gift. The possibilities are endless when you decide to go this route.
The gift does not have to be anything too extravagant. You still have a wedding to pay for, after all. Something simple like a mid-range bottle of wine is the perfect token of appreciation. If you want something even more personalized, try to get a small gift that aligns with your friend's interests. You probably know this person's hobbies and passions, so try to work with that information when finding your present and you're likely to pick a winner.
Memories
Do you and your partner have a long friendship with the person you want to have officiate your wedding? If so, this is the perfect opportunity to walk down memory lane! Find an old photo of the three of you together, frame it, and present it to your friend along with a written note asking him or her to be your wedding minister. There might even be a few tears along the way.
Asking your friend to get ordained and officiate your wedding can be a big deal. Finding a personalized way to ask this person to take on this responsibility can be a wonderful way to show your appreciation.