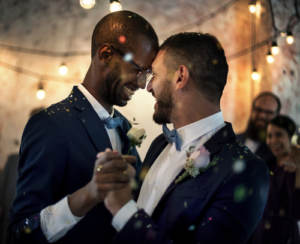 A married couple's first dance is seen as a pivotal moment in any wedding celebration. Couples try their best to make it memorable with the right song and dance moves for their grand entrance. When your goal is to make it truly special, you'll benefit from some sage wisdom and innovative approaches.
Choosing Your Song
Your first dance song choice can perform several key functions. It can stand alone as an unforgettable gem and possibly set the stage for the rest of the celebration. Moreover, it can also communicate a lot about your style, tastes, and shared values as a couple. Martha Stewart Wedding's Nicole Harris offers suggestions for making this significant choice. First, consider your love story and lean toward a tune that you find sentimental. Next, focus on a genre both of you like and figure out whether you'll go with a traditional or contemporary song. If you have certain dance styles already in mind, pick a song with a melody, rhythm, and speed that complements your moves.
At the same time, LGBTQ couples might struggle to find a song that truly represents them. If you're in this situation, Brides editor Anna Price Olson provides some sound recommendations. In a June 2016 article, she points out that many classic and contemporary love songs are gender-free and universal. For couples who can't pin down the "perfect" song, Price Olson advises not to stress about it but go with a selection that fits the moment. The Knot and Wedding Wire's Whitney Teal offer their own lists. If you're stuck for inspiration, some common tunes appear in both these and Price Olson's recommendations:
"Stand by Me," Ben E. King
"At Last," Etta James
"What a Wonderful World," Louis Armstrong
"This Will Be Our Year," The Zombies
"You Are the Best Thing," Ray LaMontagne
These are just a few ideas, but you can use them as a jump-off point to find your favorites. A Practical Wedding's Meg Keene and NewNowNext's Lester Fabian Brathwaite also mention several more popular selections.
Deciding Your Dance Moves
Now that you've chosen your signature tune, your next step is figuring out your dance moves. Plenty of guides exist, such as Inside Weddings' rundown of popular dance styles while Pink Wedding Venues discusses their first dance tips. Their experts recommend hiring a dance teacher who's used to working with LGBTQ couples. This person should be able to help tailor a routine suited to your preferences and teach you how to execute it. You'll also need to ask someone to introduce you before your dance begins and determine whether you want guests to join you at the end. Finally, don't forget to practice your moves and break in your dancing shoes before the big day.
What If You Don't Want To Dance?
Whether you and your sweetie take the limelight in a first dance at your reception is your call. Fortunately, Equally Wed is here to help you with a list of fun alternatives if being in the spotlight isn't your thing:
A champagne toast with an all-guest dance
Performing a group dance with your wedding party
Asking your live band to serenade you
If you don't dance, don't worry. You can pick another fun first activity, such as a lightsaber battle, hula hoop contest, jump roping, or something else that's delightful and off the beaten path. Whatever you choose, make sure it's enjoyable and stress-free.
Your Cherished Moment Together
The first dance may be a customary part of a wedding reception, but you can still make it truly your own. A song that fits your ethos and mood is key, and you should pick a dance style that you love. Even so, keep your approach fun and light and remember that you have alternatives if you don't want to hit the floor.