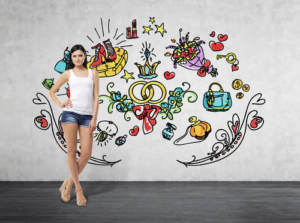 According to Wedding Wire's Kim Forrest, around 19 percent of surveyed couples planned their weddings in six months or less. Whether it's unexpected life developments, the perfect event date that you can't pass up, or it just "feels right" to take the plunge, you and your sweetie may decide to tie the knot sooner rather than later. How do you plan when the big day is only a few weeks or months away? Fortunately, some sound advice and tips can help you successfully pull off your event.
First Things First: Handling the Basics
In a January 2018 Brides article, Jaimie Mackey provides tips for quickly organizing your wedding. Just like with typical 12-month planning timelines, you'll need to figure out some basic elements first:
Total budget
Guest list
Venues and vendors
Your attire
Your first step is to pin down how much money you'll have to spend as well as your funding sources. While your available funds will determine what kind of event you can host, Mackey adds that you shouldn't just look strictly at your numbers. It's important to prioritize so you can devote more funds to the "must-haves" on your list and allocate appropriately for the rest.
Also, keep in mind that your budget, venue, and guest list will all affect each other. You may be able to get a great deal on a ballroom or reception hall, or even book a nontraditional location. At the same time, don't set your guest list in stone without finalizing your venue.
Near the beginning of your planning, you will also need to scope out your vendors and attire. Flexibility is vital when searching for and making your selections, so be prepared to check out your second and third choices if your first ones are booked up. You should also expect to pay a little extra to expedite your attire order, and don't be lax in scheduling your fittings. Be open to alternatives such as off-the-rack fashions or rental formalwear.
Consider Hiring a Wedding Planning Professional
With fast-tracked wedding planning, you're dealing with the same details but in a condensed period of time. Many experts recommend bringing a wedding planner on board to help wrangle the major elements and minutiae. Brides' Jaimie Mackey mentions that either a standard planner or month-of coordinator are ideal options, as they can help make arrangements and steer you toward the best vendors. In another Brides article, both Mackey and co-writer Lauren Matthews explain that a month-of coordinator takes over during the last 30 days of planning to confirm, fine-tune, and wrap up final details.
If you go this route, you still must shop around to ensure that you select the right professional. Be sure to browse customer reviews and feedback, and look for planners with memberships in organizations such as the American Association of Certified Wedding Planners. Finally, choosing an LGBTQ-friendly planner is a wise move. The Knot lists several tips for scoping out equality-minded professionals.
Consult Some Example Timelines for Help
What if you want to tie the knot within the next few weeks? Fortunately, you won't lack for advice to help you accomplish this goal. Plenty of shorter sample timelines are available online:
Speedy Wedding Planning Takes Effort
Whether you're walking down the aisle in six months, three months, 30 days, or even one week, you should first determine key basics such as your budget, guest lists, and venues. At the same time, hiring a planner or a month-of coordinator can help make the process less stressful. Organization, flexibility, and decisiveness are essential to ensure that your sped-up planning results in a successfully executed event.