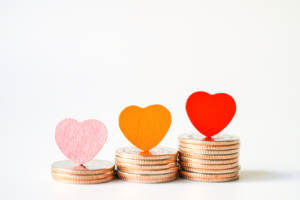 Planning for your wedding can easily become a very expensive process. While you might not be trying to put together an event to rival European royalty, you still need to make sure you cover expenses like food, alcohol, photography, and other essentials. Though your plans can easily become a bit pricier than you intended, there are plenty of simple and efficient tips for you to consider in order to save a bit of money.
If you're trying to not go broke while putting together your wedding, you may need a little help. Explore these tips and tricks, and see which techniques are best for you.
Pick What's Most Important
To save money for your big day, a few sacrifices are going to need to be made. Before slashing your budget, you and your partner should have a sit-down discussion about the entire event. The main goal of the conversation should be to see which elements of the wedding are most important to each of you. This means you need to pick which aspects of the wedding you absolutely cannot do without, whether it be the floral arrangements, the entertainment, the décor, or whatever else matters the most to you.
Selecting the most crucial elements of your event can help you determine which services you don't want to skimp on and which are less important. For example, should you and your partner both feel like the centerpieces don't matter much, then you can cut these from your budget. This will help you save a bit in the most practical way possible: seeing what you and your partner both don't care about and adjusting your budget to fit the actual needs of your big day.
Examine the Smaller Costs
Some aspects of your wedding can seem somewhat innocuous because they appear less expensive on the surface. Unfortunately, small costs tend to add up in no time at all. Consider the cost of buying a cup of coffee each day. It is inexpensive, right? Now consider buying a cup of coffee each day for an entire month. Suddenly, this small cost seems a lot larger. The same is true of your wedding costs. Even though some might appear inexpensive at first, the prices can easily add up.
Take a bit of time to look over all of the projected costs of your wedding. Though some decadent details might be nice to have, it can be wise to think about whether or not you actually need these features. Cutting out extraneous and expensive items can be a straightforward and useful way to get your budget back to a more practical place. Plus, you may even discover that you really don't need some of these costly things. Discuss this plan with your significant other, and see if you can work out a way to cut some expenses by exploring this tactic.
Smaller Is Better
Another simple way to cut costs associated with your wedding is by opting to go smaller on some services. Thinking about renting a big limo to cart you and your partner from the service to the reception? Explore whether a town car is less expensive. You still get a nice, comfortable ride without the need for a more expensive price tag in the end. Selecting smaller, less costly services might help you get your budget to where it needs to be without having to sacrifice too much.
In order for you to get the most out of your wedding, it can be important to discover how you can save some money throughout the process. Find which tactics work best for your needs, and see how many costs you can cut!