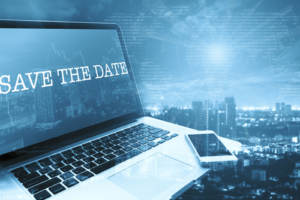 Nowadays, almost everything can be handled via the internet. Whether you're looking to pay some bills, book a table at a restaurant, or do all of your shopping without changing out of your pajamas, hopping online is a simple and straightforward solution. As you continue to plan for your upcoming wedding, you might be curious about how you can use the internet to your advantage to make your event more efficient. One idea worth considering is ditching traditional mail and opting instead to send out your save-the-dates through email.
By going through electronic channels for your save-the-dates, you have the opportunity to try something that will help make your event a bit more modern. Explore these reasons to consider using online save-the-dates, and see if this is the right choice for your event.
Online, Or Partially Digital
Online options for save-the-dates are somewhat new, which means you might have a number of reservations when it comes to using this mode of communication. Remember, just because you're using the internet to send out your reminders, it does not mean that you also have to send out digital invitations. In fact, plenty of couples only use digital methods when it comes to their save-the-dates, then continue forward using traditional mailers for their actual invites. This can help you save a bit of money and still alert all of your guests about important information.
Of course, there are a handful of drawbacks to think about before you go digital with this part of your event. For one, you need to consider the older members of your family. Anyone on your guest list who doesn't use a computer regularly should be taken into consideration. As long as your guests are expecting the save-the-date through email and remember to turn their spam filters off, you should be good to go. If it makes you feel more comfortable, you can also choose to send out paper copies to specific guests on your list.
A Fast Solution
One of the biggest reasons to think about sending your save-the-dates out via email is because it is much more of an instantaneous service. When you send them out through traditional channels like the post office, you have to wait a certain amount of time before you know whether the mailers have arrived. With digital options, all you need to do is click the "send" button and everyone on your guest list will receive his or her message within seconds, no matter where in the world they may be.
This can be a huge advantage if you are getting married on a tighter timeline than you originally anticipated. When you need to alert your guests that you plan on tying the knot in a few short months, a digital save-the-date helps to inform everyone in the quickest, most efficient way possible. Plus, you can still design the save-the-date however you'd like. Most online services that help couples send out these messages offer a slew of style options, allowing you control over the aesthetic quality of the emails before they go out to guests.
Pocket the Change
Finally, going digital with your mailers helps you to keep a tight leash on your budget. Traditional mailing options can be expensive, especially when you are sending a lot of mail to far-off locations. By opting for an online experience, you and your partner can save some money and still alert all of your guests of the important information related to your wedding.
There are plenty of reasons to think about sending out your save-the-dates through email instead of through traditional mail. If you want to save some money and still get your message out in an efficient and stylish way, this could be the solution you need.