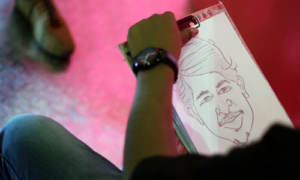 Browse wedding websites, and you'll find all kinds of advice on how to select and book a DJ. That's no surprise, considering that DJs have been a primary entertainment choice at weddings over the last few decades. As trends and preferences change, couples seek cool alternatives for elements that were once thought to be essential parts of their celebrations. While DJs aren't exactly going the way of the dinosaur, nearlyweds are exploring other entertainment options for their receptions.
Exploring Unique and Unusual Options
Writing for LGBTQWeddings.com, Jasmine Anderson mentioned a few cool and memorable entertainment options that gained popularity at nuptial celebrations in 2018:
Magicians
Tarot card readers
Astrologists
Sketch artists
Of course, that's just a short list of possibilities. Other ideas include belly dancers, celebrity impersonators, comedians, live painters, circus performers, and light shows. Wedding Ideas Magazine writer Lauren Fraser suggests several more in a recent write-up. As you consider these possibilities, it's important to pick entertainment that's a good fit for your crowd's makeup and age ranges.
Pay Attention to Your Budget
Your mind may be reeling from all the possibilities, but booking the right entertainment takes some effort and homework on your part. The Wedding Crashers Blog published its guide to hiring live entertainment, offering several tips for locating and choosing your professionals. Just as with any aspect of wedding planning, your first step is to determine your budget. If you're still in the early stages, you may benefit from The Knot's wedding budget breakdown. While reception costs typically comprise about half of most couples' total event expenses, entertainment and music on their own take up close to 10 percent. Meanwhile, Wedding Wire prices out the average wedding band at around $4,000.
Get Permission From Your Venue
Before you hire anyone to perform at your reception, it's important to confirm whether your venue's policies permit outside live entertainment. The Wedding Crashers Blog advises couples to talk to their venue management, since some vendors may require preapproval of entertainment acts or allow clients to only choose from an approved list. Additionally, your venue may require entertainers to submit proof of insurance coverage along with any licenses mandated by your local government.
Find and Audition Potential Acts
After you've established your entertainment budget, your next step is to search for and audition some cool acts. Seeing them perform live will not only show you what to expect but also allow you to observe how they interact with audiences. During this stage, you'll also want to confirm their rates and speak with their references before making your final selection.
Set Expectations and Iron Out Details
Reviewing performer contracts and negotiating final details should be the last step. GigMasters' guide to entertainment contracts spells out several important details you should find out before you book and pay any deposits:
Amount of time for setup
Who will be present for your event
Alcohol consumption
Costumes and attire
Cancellation policies
Acceptable forms of payment
Space and electrical requirements
Sound and lighting equipment
Overtime policies
Meanwhile, you must also communicate with your performers and verify that your expectations are understood. This should include any specifics you want to see as well as jokes, songs, or other material that are off-limits during your event.
Search Carefully and Book Wisely
The wedding professionals you hire should add something special to your event. While bands and DJs still remain popular, those looking for unique and unusual options have plenty of options from which to choose. When deciding on your entertainment, be sure to examine your budget, consult your venue, vet your possibilities thoroughly, and confirm contract details before you sign. Whatever entertainment you select, you should ultimately consider your wedding's general vibe plus your guests' enjoyment factor.