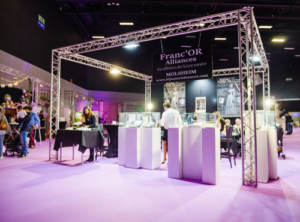 Planning a wedding requires managing both resources and time. Finding the best vendors for your event is one piece of the puzzle, but it is a significant step. Wedding expos can help you discover the professionals you need in less time than researching the internet. Yet you need a sound approach to make the most of your experience. Before you attend an expo, here's what you need to know.
Wedding Expo Basics
A wedding expo brings together many industry vendors under one roof. In many locales, they're still referred to as bridal shows or bridal fairs. Since they need large amounts of space, typical venues include hotels, convention centers, auditoriums, and coliseums. Spring and summer are popular expo seasons, but they can occur all year round. Some require attendees to purchase tickets, while others are free to the public. Check with each event's website to see if you must preregister.
While most expos have a general focus, some feature LGBTQ-friendly vendors. Many are organized by independent groups and can be found in many metro areas. Rainbow Wedding Network is one example, operating its Same Love Same Rights expos across the United States. Other notable events include the annual One Love Wedding Showcase in Seattle. Smaller gatherings may pop up in your area, so check local media or with your nearby LGBTQ resource center for more information.
Benefits of Attending Wedding Expos
Martha Stewart Weddings explains several important advantages of going to a wedding expo. First, you're more likely to encounter reliable vendors since its organizers carefully vet each business. Depending on the event, you'll also be exposed to vendors offering a wide range of services, styles, and price points. Writer Alyssa Brown points out that expos are a great place to find new and unexpected professionals. Moreover, many shows host panel discussions and guest speakers offering useful planning advice and tips.
More than that, you get the benefit of interacting with vendors in person without making separate appointments. Expos' formats and schedules usually mimic conventions and trade shows, with businesses setting up large booths or displays. You may also get the opportunity to attend fashion runway shows featuring wedding formalwear from local shops and national brands. You can see and sample products in person, taking some of the guesswork out of choosing the right ones for your event.
Useful Advice for Your Expo Experience
Wedding shows provide a lot of useful opportunities, but you should keep a few things in mind before you book and attend one. If the expo has a website or advertisement, review it to get an idea of whether you'll benefit from going. While LGBTQ-friendly expos can be useful, some general wedding fairs also include affirming vendors in their lineups.
A February 2017 Wedding Wire article suggests how you can get the most out of your visit. Be sure to dress comfortably and arrive early to avoid the rush. Attending with a friend and bringing contact cards with you ensures you stay organized, avoid getting lost, and can exchange information with vendors. Taking photos and notes will also help with storing ideas for later reference. Another Wedding Wire writer, Christin Perry, mentions that keeping an open mind can lead to surprising ideas and inspiration sources. Also, don't forget to enter giveaways and raffles as well as ask about discounts and show-only rates.
More Than Just a Fun Event
Going to a wedding expo can be enjoyable, but you're also there to accomplish some key goals. Finding vendors, scouting for inspiration, and getting planning advice are a few conveniences. Remember to evaluate each expo before you go and stay organized to get the biggest benefits out of your visit.