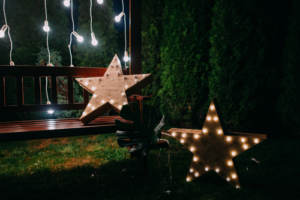 Astrology is having an undoubtedly big pop-culture moment. The Guardian reported in March 2018 that horoscope readership has skyrocketed in the last few years. It's also gaining popularity with adults under 35, who look to it either for guidance or a mental framework to help understand our world. Mashable revealed that the number of queer and transgender astrologers is growing. Organizations such as Queer Astrology reflect these trends.
As such, celebrities aren't the only ones who can have star-studded weddings. You might have a passing interest, be a dedicated horoscope reader, or admire astrology's symbolism. Regardless of your reasons, you can use the stars as inspiration to plan and style your wedding.
Celestial Wedding Themes
Weddings inspired by the heavens aren't new. Celestial themes are timeless, with beautiful details you can incorporate into your event. Wedding Wire's Samantha Iacia mentions décor, attire, invitations, and even ceremonial aspects. Some key elements are useful for decking out your celebration:
Color choices: Gold, silver, and white work well in celestial weddings, along with shades of blue like sapphire, navy, and periwinkle.
Texture and visual effects: Shimmer, sparkle, and shine reign supreme in this type of theme. Try iridescent, satiny, glittery, or pearly accents on decorations, printed materials, and fabrics.
A few bold touches: Big-statement effects can draw the eye and add luster, especially if they're well-placed and limited in number. Star-shaped gold lanterns and constellation signage are a couple of examples, but you can mine your imagination for more.
Working in subtle accents: Don't go big on every single detail of your event. Refined, understated effects combined with bold eye-catching elements offer just the right balance.
These are just a few ideas. It's up to you to make your affair as grand or minimalistic as you'd like.
More Astrology-Inspired Details
Celestial aesthetics are a great way to bring the stars into your big day, but astrology can inspire you to add more special details. You can craft a more unified style by matching your invitations to your signage and décor. The pros at Star Sign Style recommend constellation or moon-themed invitations. Meanwhile, heavenly quotes are always a nice bonus touch.
If you want to incorporate subtler aesthetic aspects, flowers are the perfect way to accomplish this goal. Lifestyle magazine StyleCaster offers zodiac-inspired suggestions for your décor. One possible combination for a Cancer-Virgo couple might include white roses with lavender. Colors associated with Cancer include moon-like tones such as white, silver, or gray. At the same time, herbs like lavender speak to Virgo's practical side.
Even mere color pairings can serve as understated nods to an astrological theme. A Leo-Pisces couple might combine gold and white or match eggplant with lavender. With Leos, people usually picture bold tones such as reds, pinks, oranges, deep purple, and eggplant. Pisces aesthetics skew toward pastels and colors like lavender, teal, sea green, and peach.
Using Astrology To Choose Your Date
Some couples go as far as using the stars to pick an ideal wedding date. Electional astrology, which charts event dates instead of people, is common in many South Asian cultures. An April 2018 Brides article explains how this approach works. A professional electional astrologer studies the movements of Venus and the moon, which rule love and emotions respectively. Many will also pick a date without Venus or Mercury in retrograde. They believe these could cause miscommunications and old feelings to resurface at an inopportune time.
Weddings involve many physical, ceremonial, and emotional elements. You needn't feel pressured to make yours absolutely perfect, but a fun approach is useful when you're planning and styling. Astrologically inspired choices in your aesthetics or date can make your event lighthearted and memorable.